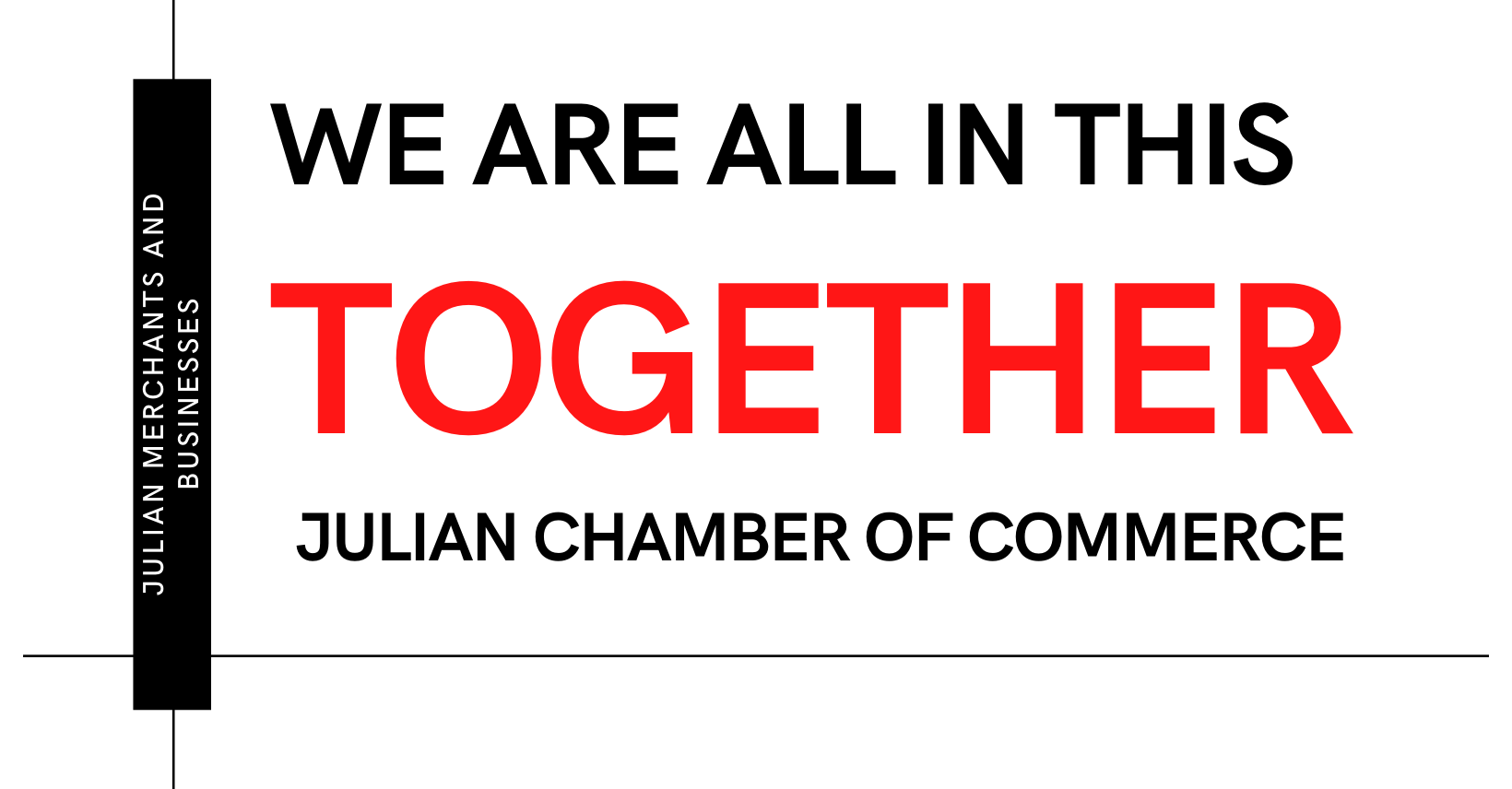 Updated May 25, 2020
Visitor Survey Results
We Sent Out and posted a link to a survey regarding reopening to our visitors. We have nearly 700 surveys completed.  We compiled this report when we had 557 surveys.  We will update the numbers ASAP. We wanted to make sure you got these results in hand for opening your business and business practices that visitors are looking for.
We removed most of the individual comments to keep the survey easier to read (it was 18 pages long). If you want the full, 18 page report, please email chamber@julianca.com 
May 25, 2020
SAN DIEGO AND IMPERIAL SMALL BUSINESS DEVELOPMENT CENTERS TO PROVIDE SMALL BUSINESS TRAINING TO ADAPT TO COVID-19 ENVIRONMENT, IN PARTNERSHIP WITH SUPERVISOR NATHAN FLETCHER
SAN DIEGO (May 20, 2020) –Supervisor Nathan Fletcher and the San Diego and Imperial Small Business Development Center (SBDC) Network, with funding by the US Small Business Administration (SBA) and the California Governor's Office of Business and Economic Development (Go-Biz), have partnered to prepare small business owners to navigate required for reopening during the COVID-19 pandemic.
The SBDC and Supervisor Fletcher are unveiling a new website to provide free live and on-demand webinars to help small businesses prepare for reopening. The site also includes training, county resources, templates, and counseling. The address is www.SDIVSBDC.org/adaptSD.
"The SBDC is a vital partner for small businesses in San Diego," said Supervisor Fletcher. "This new, complimentary online resource will assist business owners adapt to the new way of operating during the COVID-19 pandemic."
Trainings are scheduled on broad topics, such as "Protecting Business Assets Online in our New Environment" and "Instagram Strategies After Covid-19". Industry specific trainings, such as for in-home Child Care are available, with trainings on the retail sector, restaurants, and small farming forthcoming. New courses will continue to be added.
"Partnering with the County of San Diego and Supervisor Fletcher provides our SBDC team with the most current rules and regulations. This is critical to our work guiding small business owners as they move into the recovery phase of our Covid-19 environment," said Marquise Jackson, Regional Director, San Diego & Imperial SBDC Network.
Dear Food Facility Operators,
On the evening of May 20, 2020, the Governor approved the County of San Diego's request to proceed with modified onsite dining throughout the San Diego region.
The Department of Environmental Health (DEH) is providing the state and local guidance documents and local protocols for restaurants to operate in a modified manner. Prior to implementing onsite dining, please review the resources below and modify your food facility operations to meet the COVID-19 prevention measures listed in the San Diego Safe Onsite Dining Plan and San Diego Restaurant Operating Protocol. A copy of your Restaurant Operating Protocol does not need to be submitted to the County; just complete, sign and post it in your facility.
For those restaurants currently operating in a take-out fashion and keeping operations the same, your previously posted protocols suffice.  For those operators who wish to expand operations or re-open operations to allow for limited onsite dining, please complete and post the Restaurant Operating Protocol.
Resources:
San Diego Safe Onsite Dining Plan – Review guidance for implementing key prevention measures for COVID-19.
San Diego Restaurant Operating Protocol – Fill this form out, print and post at a public entrance. Implement all mandatory measures.
San Diego Guidance for Food Facility Re-Openings – Guidance checklist to help you with re-opening.
San Diego Safe Dining Posters – Print and display these posters at all entrances to the facility.
State Guidance for Dine-in Restaurants – Review guidance for additional optional measures that can be implemented to protect against COVID-19.
The Department of Environmental Health will continue conducting food safety status verifications to ensure compliance with the California Retail Food Code and provide guidance and education on the Health Officer Orders.
If you have questions regarding the local protocols or how your facility will operate in a modified manner, please contact the duty information specialist at (858) 505-6900 or by email at fhdutyeh@sdcounty.ca.gov.
For updated information about COVID-19, including resource documents such as frequently asked questions, informational posters, and guidance, please visit www.coronavirus-sd.com. 

Sincerely,
Department of Environmental Health
Food and Housing Division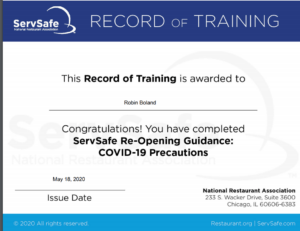 05/18/20 (From Robin Boland, Chamber Board):  Today's update brings some valuable updates for you and your business.  If you have read my previous updates and accompanying notes, you may recall that the Destination Analyst have been reporting weekly on traveler sentiment and an overwhelming number of people indicated that feeling safe would include seeing businesses actively cleaning and some sort of certification that the business has to indicate they are knowledgeable about cleaning protocols.
Once I learned this from Destination Analysts, I began looking for such training.  I strongly feel that this kind of training will be widely available in the near future.
I reached out to our local Health Department and after some back and forth with different departments, I was provided with a link to ServSafe that offers online training for the food industry and it provides a RECORD OF TRAINING.
The food industry is the strictest industry and though as a retailer or lodging or activity business, you can still take this training for free and display the certificate.
This is at least a start and a way to show your customers that you take their and your employees safety seriously.
Here is the link to sign up for the trainings offered: https://www.servsafe.com/Landing-Pages/Free-Courses
Here is some information about how people may react if they don't feel you are putting safety first: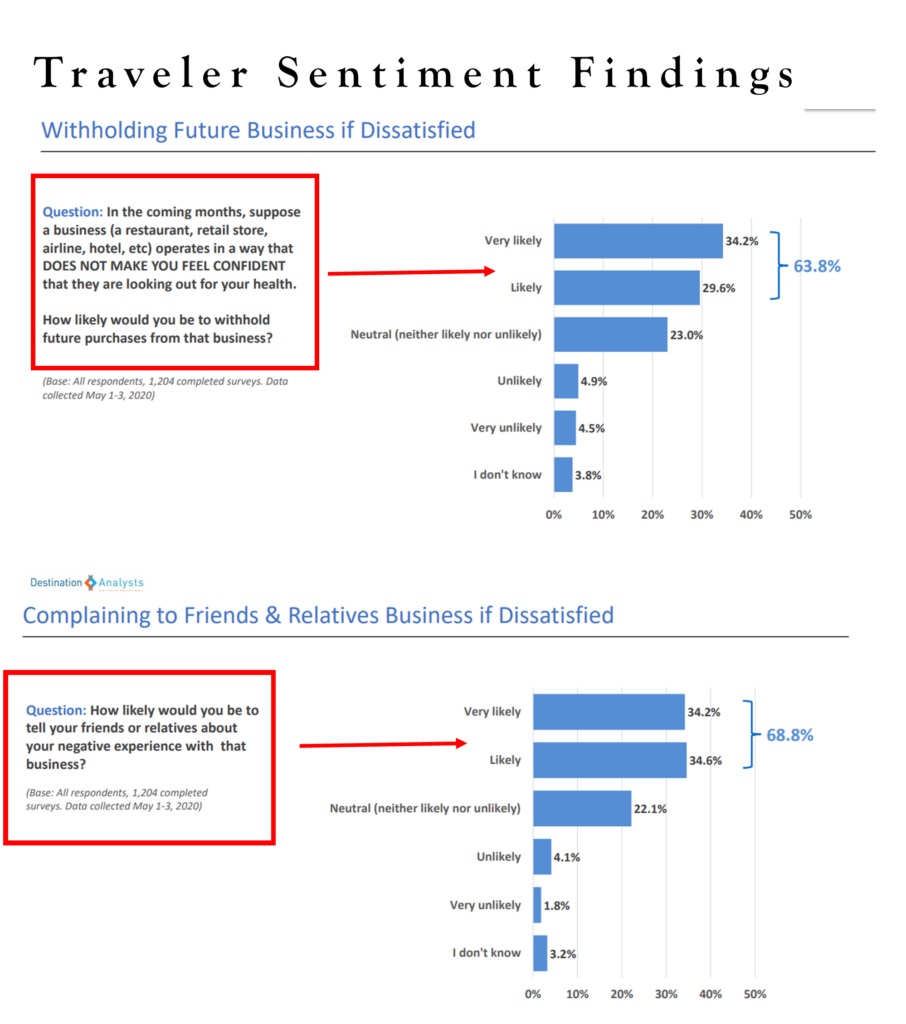 05/13/2020 – Resources come from many different places. While searching for tool kits, this handy list presented itself.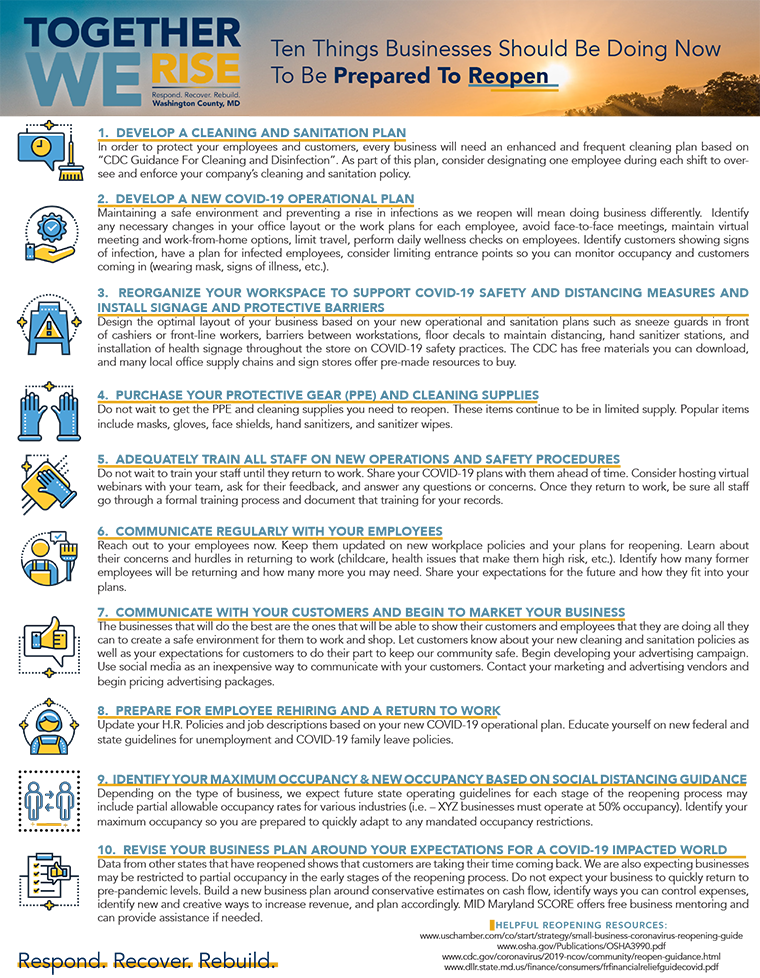 ---
5/12 – Useful Documents have been added for Industry  Specific Guidelines – These come for the State of California – Please locate the links under the helpful documents section of this page.
---
05-11-2020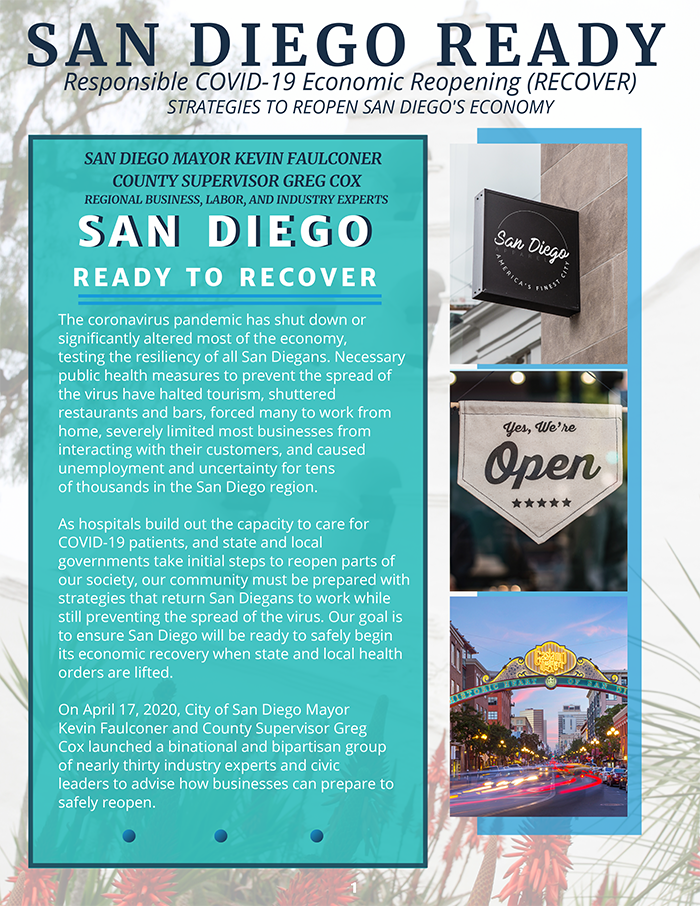 ---
05/07/20 – An update from the San Diego Regional Chamber of Commerce
Tomorrow, California moves into Stage 2 of modifying the state's Stay-at-Home order. This means some lower-risk workplaces (retail, manufacturing, warehouses) can gradually open while providing for physical distancing and taking necessary steps to reduce the risk of infection for employees and customers.
In preparation for reopening business tomorrow, the state has outlined guidance for those industries that can reopen along with an industry-specific checklist that can be posted in the workplace. Industry guidance and checklists can be found on the state's website: covid19.ca.gov/roadmap/ 
Before businesses in the County of San Diego can reopen, they need to create a "Safe Reopening Plan", which ensures the safety of employees and customers. A template is available now that businesses will need to complete and post at their entrance. The plan, which also ensures proper sanitation, physical distancing, and general business practices, may need to be updated, and displayed again, depending on direction from the state.
The Responsible COVID-19 Economic Reopening (RECOVER) Advisory Group which the Chamber is part of, released recommended strategies to safely reopen. The strategies provide steps a business can take when creating a health and safety plan specific to its daily operations, customer base, and employee needs.
More on all of this and other COVID-19 policy-related news is available in today's Legislative Update prepared by our Public Policy and International Business Affairs teams.
Please see below for more on our upcoming virtual programs, including a special science one just for kids. Additional resources and information are available on our coronavirus business resource page and you can reach out to our team via the contact form on that page as well.
Best regards,
Jerry Sanders 
President & CEO
San Diego Regional
Chamber of Commerce
05-06-2020 – Be sure to view the new uploaded documents for your reference and USE
---
Shared By Our Board of Supervisors, Dianne Jacob at 3:18pm on May 5, 2020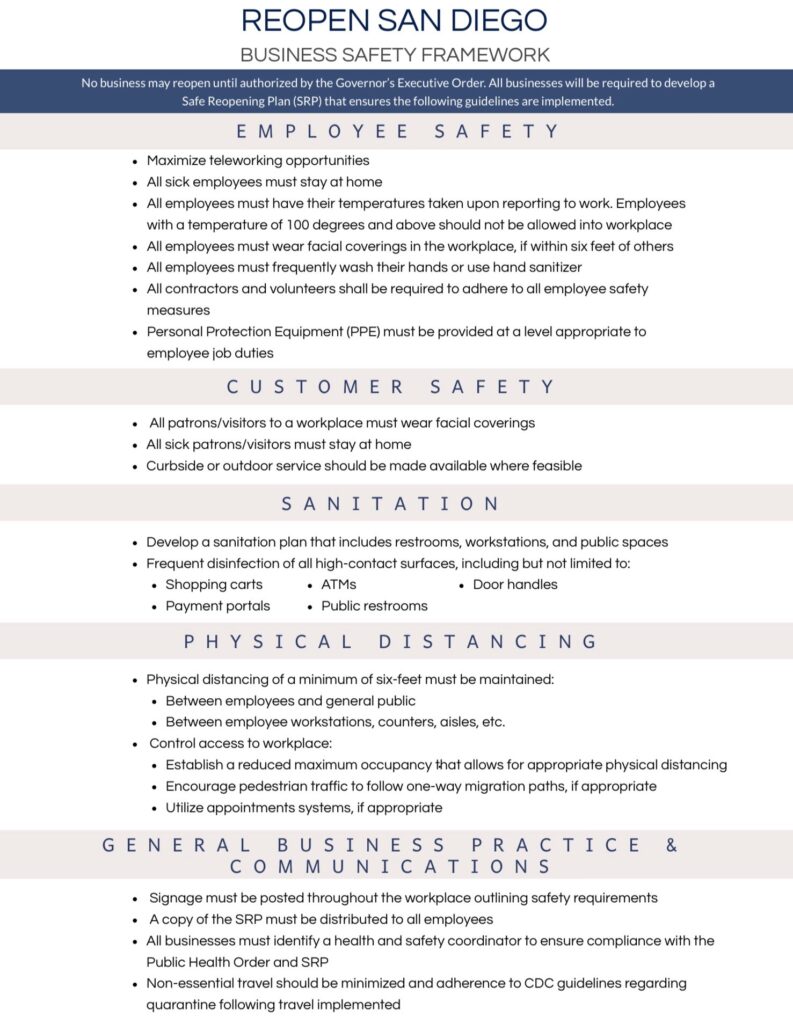 ---
05-04-2020 – I-9 Policy Alert  COVID-19 Temporary Policy for   – Verification Documents
Many areas are still under stay-at-home orders due to COVID-19 and some online renewal services have restrictions.
Employees may experience challenges renewing List B identity documents such as state driver's license, a state ID card, or other Form I-9, Employment Eligibility Verification
Considering these circumstances, DHS is issuing a temporary policy regarding expired List B identity documents used to complete Form I-9, Employment Eligibility Verification.
Beginning on May 1, identity documents found in List B set to expire on or after March 1, 2020 and not otherwise extended by the issuing authority, may be treated the same as if the employee presented a valid receipt for an acceptable document for Form I-9 purposes.
---
May 4 – 2020  – San Diego Tourism Authority.  A member meeting was held virtually on Friday (4/30), The audio was a problem during this meeting. The good folks at SDTA put online all the pertinent information from this meeting and you will find it here – https://connect.sandiego.org/2020/05/01/recap-of-may-1-member-call/
I was able to get good notes from the lodging portion of the meeting and they are uploaded here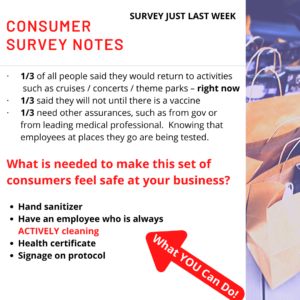 4/30-20 – Robin joined the US Chamber Foundation Webinar on the Path Forward – This webinar was about the psychology of the consumer and had
psychologists on the panel as well as consumer survey experts. There was a lot asked –  Here are my notes from this webinar – They contain some pretty specific information about what brick and mortar businesses need to do in order for their patrons to feel safe.  Click Here for Notes
---
4/30/2020 – Received From East County EDC:  Hopefully you all saw Gov Newsom's phase re-open plan. That along with the CDC and White House plan are some basic indicators for our clients. For more detail, the County of San Diego has a basic template of questions businesses can be thinking about:
SOCIAL DISTANCING AND SANITATION PROTOCOL
Businesses must implement all mandatory measures listed in A, B, and F. Businesses shall select applicable measures listed in C, D, and E and be prepared to explain why any measure that is not implemented is inapplicable to the business.
---
04/29/2020  OSHA's Response to Workplace Safety and Coronavirus Exposure
As employers seek to protect their workers from exposure to Coronavirus, either while maintaining operations or in anticipation of resuming operations, what is expected of them by OSHA is one area of concern and uncertainty. OSHA has issued guidance to cover three of the main questions: how should employers protect their employees; do employers have to record cases of COVID-19 on their injury logs; and how will OSHA conduct enforcement related to Coronavirus? OSHA has coordinated its approach with guidance from the Centers for Disease Control (CDC) with respect to various protective measures.
---
04/27/2020 – On-Demand Webinar: How to Maximize your PPP Loan Forgiveness
---
04/21/20 – (posted by Supervisor Dianne Jacob) The Board of Supervisors just agreed to launch a $5 million loan program to ease small business losses related to coronavirus. It applies to businesses in our unincorporated area. So many businesses, including mom-and-pop shops, need help. The program will allow those with 50 employees or fewer to seek loans of up to $50,000 each.  Read detail document here.
---
4/21/20 –  Conference Call Notes – "Coronavirus Travel Sentiment Survey Findings – Week 6" 
---
4/21/20 –  We are receiving a morning report from INC.  We scan the articles for those that may be of interest to our Julian Businesses.  Today this article came out about the next round of PPP. Click on title below for article.
4-21-20 Chamber Friends,
This afternoon, the U.S. Senate approved additional funding for the Paycheck Protection Program (PPP), as well as the SBA Economic Disaster Loan Program.  We expect the House to vote on this bill on Thursday, April 23rd.   Click here to urge you member of Congress to support this desperately needed funding.
A top line summary and text of the bill are linked below; here are some of the highlights:
$310 billion increase (total of $659 billion) for Paycheck Protection Program (PPP)
$30 billion set aside for loans made by Insured Depository Institutions and Credit Unions that have assets between $10 billion and $50 billion; and
$30 billion set aside for loans made by Community Financial Institutions, Small Insured Depository Institutions, and Credit Unions with assets less than $10 billion
No changes to eligibility for the PPP (No fix for (c)6's and other nonprofits)
$10 billion increase (total of $20 Billion) for EIDL Grants and an additional $50 billion to support EIDL Loans
Allows agricultural enterprises as defined by section 18(b) of the Small Business Act (15 U.S.C. 647(b)) with not more than 500 employees to receive EIDL grants and loans.
Unfortunately, this legislation did not include a change to allow 501(c)(6) chambers of commerce and other nonprofits to access the PPP.  While this is disappointing, it is not surprising.  In fact, it is a reminder that we need to keep the pressure on Congress to include all non-profits in the PPP when they move to consideration of the Phase Four bill.  Therefore, if you have not already done so, please be sure to sign our letter to Congress by Thursday at 4:00pm ET / 2:00pm MT / 1:00pm PT / 10:00am Hawaii.  Click here to read and sign the letter.
Thank you for all that you are doing, and please let us know if you have any questions.
04/20/20 Rolled Out Today!!! 

UPDATE 4/21 – APPLICATIONS ARE CLOSED
Small businesses are the foundation of our communities and our economy. Employing nearly half the American workforce, they keep our neighborhoods running and make them feel like home. The impacts of the coronavirus pandemic have wrought unprecedented financial uncertainty. These businesses need resources and relief — and they need it now.
That's why the Save Small Business Fund, a grantmaking initiative funded by contributions from corporate and philanthropi
c partners, is providing $5,000 in short-term relief to employers across the United States. These one-time supplemental cash grants are for businesses that have between three and 20 employees and operate in an economically vulnerable community.
The grant application will go live on Monday, April 20 at 12:00 PM PT/3:00 PM ET. To learn more about the Save Small Business Fund and to apply for a grant, visit
http://savesmallbusiness.com/
——————————————————————————————
4/20/20 – Are You Stuck in Loan Limbo?  Here is a quick video that talks about the process
https://www.inc.com/video/stuck-in-loan-limbo-heres-what-to-know.html
04/19/20
Notes and updates:
Please send me email confirmations about EIDL advances and approvals, PPP applications and approvals ( the lender name and amount), and other assistance you have received (like City of San Diego).
To date our region have confirmed $826,850 in EIDL (9 clients) and $9,369,630 in PPP (9 clients as well). We also have 1 confirmed City of San Diego SBRF disbursement.
Update on PUA – the CA Department of Labor has its guidance. For independent contractors who can't earn due to Covid-19, this may be the better route for them over PPP. But we need to the math. https://www.labor.ca.gov/pandemic-unemployment-assistance-pua-program/
PPP Lenders are still collecting applications, including Wells Fargo, US Bank, and for most of our small clients – PayPal https://www.loanbuilder.com/ppp-loan-support This is done in anticipation of PPP getting funded again, then they just process the applications. Also, all banks have kept their existing, non SBA submitted, applications ready to send to the SBA for approval.
On Monday the US will open its application for businesses in disadvantage neighborhoods. You go to smallbusiness.com/ to check the zip code. Many parts of San Diego and Imperial Counties do qualify. The application is just the company's W-9.
Stay safe and healthy!
Jeffrey Bernstein, Advisor, East County EDC
---
04/15/2020 – The US Chamber of Commerce has put together an extensive document entitled "Implementing a National Return to Work Plan"
What will a return to work look like? That is the question weighing heavily on the minds of government leaders and public health officials, employers and their employees, and American families striving for the delicate balance of staying safe and making ends meet.
It is a question that begs more questions. But this much is increasingly certain: returning to work will be gradual, phased-in, and will vary by factors such as location, sector, business type or size, and the health status of workers. It also will require continued social distancing, expanded use of personal protective equipment, and other counter-measures.
Whenever the return to work begins, the planning for it must begin now. The American business community must begin preparing now for new processes, requirements, or restrictions for which there is no playbook or precedent. And we must not allow a lack of resources, regulations that are not fit-for-purpose, and the fear of litigation to sideline efforts to return to work and life—safely, successfully, and sustainably.
To help business and government anticipate the challenges we may face, the U.S. Chamber of Commerce has begun to explore and catalogue some of the major implications of returning to work in this environment—ranging from workplace safety and employee rights to liability concerns and continued revenue disruptions.
Read the Document in it's entirety here 
—————————————————————————————————————-
—————————————————————————————————————-
04/09/20 – Paycheck Protection Program (PPP) FAQ's from the U.S. Department of Treasury
Earlier today(4/8), the U.S. Department of Treasury released an FAQ document to address common inquiries and requests for information pertaining to the Paycheck Protection Program (PPP).
In addition to the FAQ document, please review the following resources provided by the U.S. Department of Treasury below and visit their webpage for additional information.
A top-line overview of the program can be found here.
If you're a lender, more information can be found here.
If you're a borrower, more information can be found here.
The application for borrowers can be found here.
————————————————————————————————————————————————-
04/08/20 The United States Department of Labor provided an Employee Rights Poster as it relates to COVID-19
Download it here
04/06 – COUNTY OF SAN DIEGO
The County has compiled a list of COVID-19-related resources. You can also sign up for email updates and find instructions on how to join the County's weekly briefing that happens Wednesday at 9:30 a.m. Text COSD COVID19 to 468-311 to get text alert updates.
STATE OF CALIFORNIA
California Infrastructure and Economic Development Bank (IBank) has Financial Development Corporation (FDC) partners throughout California that can assist businesses.
California COVID-19 Hotline 
Governor Newsom announced a new statewide hotline: 833-544-2374. In coordination with the non-profit local 2-1-1 systems, Californians now have a one-stop-shop to answer their questions and get assistance during this crisis. Call centers are staffed 24 hours a day by trained professionals, who are able to provide guidance for unmet needs.
---
4/6/20   IS-909: Community Preparedness: Implementing Simple Activities for Everyone
Course Overview:  Community members are the key to our Nation's preparedness and resilience.
---
4-3-2020 – Robin attended the conference call from the San Diego Tourism Authority – Click here for the important notes taken.
---
4/2/2020  Robin attended the Economic Development Advisory Webinar/ Conference and has prepared these notes for you
April 2nd Conference Call Notes (PDF) 
Here are the documents distributed with the conference call referenced above
---
4/2/20 – Dianne Jacob Town Hall Notes
These are my jottings from the meeting (Robin)
---
March 30, 2020 4:30 pm
RE: San Diego & Imperial SBDC – Covid-19 Update (Monday March 30)
Here is an update as promised on the federal programs. For those have employees and have asked about the Payroll Protection Plan (PPP) we finally have some information (see yellow highlight are below):
EIDL Process
The SBA EIDL application, which includes the $10,000 advance is now at https://covid19relief.sba.gov/#/ It is a much simpler process. The business will need:

EIN/SSN
Gross Revenue 2/1/19-1/31/20
Cost of Goods Sold 2/1/19-1/31/20
Fix cost expenditures 2/1/19-1/31/20
Bank Account information for deposit of $10,000
All standard business information (address, date started, ownership, etc.)

Here is a quick video of me showing what the different pages of the site look like (this is just for internal use, it includes a blooper)

Here is the link to the sample pages for the EIDL

I will be updating the email language for advisors later today, but wanted to get this off
I will also be updating the recorded webinar later today
Paycheck Protection Plan (PPP) Loans
These loans will work under the SBA 7a program. They will applied for with banks and lenders. The primary purpose is for businesses to continue to pay their employees during this crisis even if they are getting paid sick leave. The amount loaned will be 2.5x a companies fully loaded (less retirement only) monthly payroll. The monthly payroll can include owner draw, 1099 contractors, and all W-2 employees pay. This includes payroll taxes and even group health benefits. Other expenses that can be paid with this loan include rent or mortgage payments. This loan may be forgivable.
Some FAQs
Can a company apply for both EIDL and PPP?  Yes, but they cannot be used for the same purpose. For example, the EIDL may be used to pay fixed expenses and pay off vendors, then the PPP could be used for payroll. Also, a company could apply for EIDL then not take the loan if they receive approval on a PPP as well.
When will the PPP be available? The soonest these will be available is Friday. The SBA is working with existing 7a lenders to be able to process these loans
Until when are each programs available? The PPP is only available until June 30 and will also end earlier if all legislated funds are committed. The EIDL can be applied for through the end of 2020.
What time period of payroll can PPP cover? Only the payroll between Feb 15 and June 30 and a maximum of 2.5 months of payroll.
Will a company need to resubmit their EIDL with the new process? If they were successful and received confirmation, no, those loans are being processed now.
What can we advise companies to do now who should apply for PPP? They should gather their payroll information and have those reports ready, and separate, along with their other financials. The exact process is unknown at this time, but that information will be essential
I will continue to provide you with all of the information I receive as soon as I receive it!
Stay safe and healthy!
Jeffrey Bernstein, Advisor  East County EDC
UPCOMING LIVE CONVERSATIONS
THURSDAY, April 2, 7:45 am – LIVE Conversations With the Following Individuals
SBA Emergency Loans – Dustin Ivers, County of San Diego
Small Business Development Center – Danny Fitzgerald
Important Employment Law Updates – Katie Fox, Buchalter, Apc.
San Diego Workforce Partnership – Andy Hall
Federal Stimulus Package Updates – Congressman Scott Peter's Office
City of San Diego Updates – Council President Gomez's Office\
Open to everyone, registration required. Meeting agenda and registration
https://chamber.sdbusinesschamber.com/events/details/economic-development-advocacy-meeting-04-02-2020-22799 
(From Advisor at East County EDC)
Hi everyone,
I was just on the SBA website and they have changed pretty much everything.
After completing the Eligible Entity segment the COVID-19 EIDL is a simple 3-step process (I went thru the whole process using a specific entity but did not submit the application).
Step 1- Business info including:
.Gross revenue for 12 months ended 01/31/2020
. COGS (if applicable) for that same time period
. Non-profit costs (all other biz expenses) for that same period
Step 2- Owner information:
Step 3- Additional info:
Also check "would like to be considered for advance of up to $10,000"
That is it- as of now. Who knows if and when things will change again!!
Stay safe.
03/28
In an effort to keep you updated regarding stimulus plan options offered to small businesses, please review the following information and resources:
Please view the following video for information about the forms you will need to complete and direction for completing them
https://ociesmallbusiness.org/covid19videoresources/
The following is the latest information sent to me from my SBDC regional director:
The City of San Diego's fund came out today. Already their site is impacted. Expect a number of questions from clients. The City of SD is directing people to us for help with that grant, but also because their money will run out very quickly and we can re-direct people to the SBA EIDL and other loans. https://www.sandiego.gov/economic-development/resources/relief
Here is what we know for the stimulus. There are 3 loan types for small businesses
The EIDL (Economic Injury Disaster Loans)  pool received more money. This is still the primary loan for businesses
The EIDL-Plus is for every business that applies to the EIDL program will get $10,000 that doesn't need to be repaid if the money is used to cover expenses for the business
The PPP (Payroll loan) – this we don't know many details yet. It is for up to $10 million to cover payroll primarily. But, how it will be lent out is still be worked out. So, focus on helping people get their EIDL loans
I will continue to keep you updated as I receive more information.
Stay safe and healthy,
Jeffrey Bernstein
Advisor, East County EDC
3/27 conference call with US Chamber of Commerce
Most of the Details from this call can be found here in this document – it is text heavy – take some time to review.
There was much information on this call.  The most important that I can share with you is the "loan forgiveness."  There is the ability to have portions of the loans forgiven, if used for payroll and/or business operating expenses during this time of crisis.
Here is some information from the US Chamber's site
Three separate packages approved by Congress and signed by President Trump over the past weeks combined offer a variety of assistance to businesses. Here's a breakdown of what's in those packages and how your business can take advantage of these relief efforts. We will continue to update this story as we obtain more information.
Coronavirus Preparedness and Response Supplemental Appropriations Act
What is it?
Signed into law on March 6, The Coronavirus Preparedness and Response Supplemental Appropriations Act provides $8.3 billion in emergency funding for federal agencies to respond to the coronavirus outbreak, enabling the U.S. Small Business Administration to offer $7 billion in disaster assistance loans to small businesses impacted by COVID-19.
What does it mean for small business?
The SBA is offering designated states and territories low-interest federal disaster loans to small businesses suffering substantial economic harm as a result of the coronavirus.
These loans may be used by small businesses to pay fixed debts, payroll, accounts payable and additional bills that can't be paid because of COVID-19's impact. The interest rate is 3.75% for small businesses without other available means of credit. The interest rate for non-profits is 2.75%. Businesses with credit available elsewhere are not eligible.
The SBA loans come with long-term repayments, up to a maximum of 30 years, in an effort to keep payments affordable. Loan terms are determined on a case-by-case basis, according to individual borrower's ability to repay.
The SBA has amended its disaster loan criteria to help borrowers still paying back SBA loans from previous disasters. By making this change, deferments through December 31, 2020, will be automatic. Hence, borrowers of home and business disaster loans do not have to contact SBA to request deferment.
Read our full story on SBA Disaster Assistance Loans.
Where can I learn more?
For everything you need to know about applying for a small business loan, see the U.S. Chamber's Small Business Loan Guide.
March 17, 2020
US Chamber of Commerce
Conference Call Notes
From Robin Boland
Good Day Members,
Today I participated in the US Chamber of Commerce Conference Call on the Topic of the Corona Virus impact on Small Business.
As you can imagine, much information was put out in a bit of a "rapid fire" format. I did manage to get a lot of notes down and I will lay them out for you here. Please note that I am not educated enough to answer any questions and will provide you with the links I can to help you find the answers to those questions.
The SBA is working to provide loans for Economic Injury. Here are important notes that I wrote down
1.      These loans are NOT to cover the loss of profit
2.      Loans are designed to help businesses cover normal operating cost that you are unable cover due to a loss of revenue.
3.      The sentiment in the call was that the SBA is working hard to make as many loans as possible and encourages you to apply even if you are not sure you qualify – These types of loans are far more flexible.
4.      SBA guidelines and requirements for these loans is flexible. Paying attention to
a.      Credit available elsewhere
b.      Ability to repay loan
c.      Actual loss is required
5.      SBA Loans – Interest Rate for small business is 3.75 and nonprofits are at 2.75. Churches are not eligible Cannabis industry is not eligible.
b.      if you want to know what documentation is required, you can open the actual paper application and it will tell you all required documentation. But they strongly advised against mailing your application. But this is a good resource for what you will need when you apply.
c.      Many of their non-disaster services can also be utilized via our local field operation center. This includes business counseling.
San Diego District Office
SBA District Office
550 West C St. suite 550
San Diego, CA 92101
619-557-7250 or 619-557-5894
6.      There is not currently anything in place for "fast cash" from the information I obtained in this call.
7.      US Chamber is working with Congress and the white house and has made a request for cancellation of all payroll taxes for March, April and May. I am sure they will update us on this, and I also imagine this will make the news once enacted. Further requests include:
a.      Legislation expanding and streamlining loan programs for small businesses
b.      Legislation enabling the creation of credit facilities to provide loans and loan guarantees to employers with more than 500 employees.
So, this is the majority of the information on the conference call (or what I captured as best I could). I feel very confident in the accuracy of the information I have provided to you in these notes. There were other topics discussed, but I feel these are what best relate to our community. Other information was mostly about the expanded funds and expanded definitions applied to include COVID-19.
Folks, we are here to support you and I sincerely hope that you find this information of value. I encourage you to follow the links above to delve into it deeper.
My Best,
Robin Boland
Helpful Documents
05/20/20 – US Chamber of Commerce provides PPP Loan Forgiveness GUIDE
05/18/20 – PPP Forgiveness Form For those of you who have received PPP loans and are concerned about forgiveness guidelines, the PPP forgiveness calculator was released. It doesn't clear everything up, but it clears a lot up.
05/18/20 – National Retail Federation – Operation Open Doors – Checklist – Version 2.0 (updated May 15, 2020) 
05/12/20 – Industry Specific Guidance from covid19.ca.gov
05-06 From Supervisor Dianne Jacob:Before businesses can reopen, they need to create a Safe Reopening Plan. Here's a template: It may be updated depending on direction from the state. Businesses will eventually need to complete and post a plan at their entrance. This plan does not need to be submitted at this time and the county will not require approval. It is in line with the reopening framework approved by the Board of Supervisors, but it doesn't give the green light for businesses to open up. We have asked the Governor for total local control, and we will hopefully get additional direction later this week.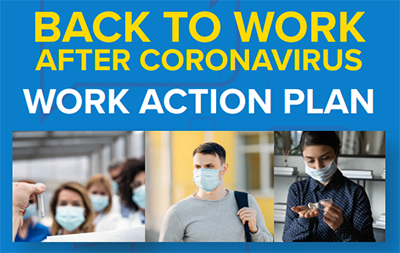 Helpful Links
05/04/2020  CDC – Cleaning and Disinfecting Your Facility: Everyday Steps, Steps When Someone is Sick, and Considerations for Employers
05/04/2020 – LODGING MEMBERS  – Link to Hilton Clean Stay Program. – This will provide you with some guidelines and information in order to share with your guests what you are doing to maintain the highest of standards. 
SBA portal to help you navigate loans available – https://www.sba.gov/funding-programs/loans/coronavirus-relief-options
Added 4/20/20 – To learn more about the Save Small Business Fund and to apply for a grant, visit http://savesmallbusiness.com/
Added 4/9/20 –

U.S. DEPARTMENT OF THE TREASURY

Assistance for Small Businesses
Added 4/6/20 – Have you lost your job? One-stop resource for the people of California impacted by job loss during the COVID-19 Pandemic
Added 4/2/20
SanDiegoCounty.gov – Coronavirus Disease 2019
https://www.sandiegocounty.gov/coronavirus.html
Resources and Materials – FAQs and Fact Sheets
https://www.sandiegocounty.gov/content/sdc/hhsa/programs/phs/community_epidemiology/dc/2019-nCoV/materials.html
California Department of Health – California is issuing daily updates on COVID-19. See the most recent update on the CDPH News Release page.
https://www.cdph.ca.gov/Programs/CID/DCDC/Pages/Immunization/ncov2019.aspx
Food Facility Operators: DEH will continue to send updates as information is provided. Additionally, please visit the following link for information on COVID-19, which includes local updates, prevention, and resources: www.coronavirus-sd.com
INFORMATION ON CORONAVIRUS FOR SAN DIEGO TOURISM AUTHORITY CUSTOMERS, CLIENTS AND MEMBERS
https://connect.sandiego.org/2020/02/28/information-on-coronavirus-for-san-diego-tourism-authority-customers-clients-and-members/
SBA District Office
550 West C St. suite 550, San Diego, CA 92101
619-557-7250 or 619-557-5894
sandiego@sba.gov
https://www.sba.gov/local-assistance/find/?type=SBA%20District%20Office&address=92036&pageNumber=1