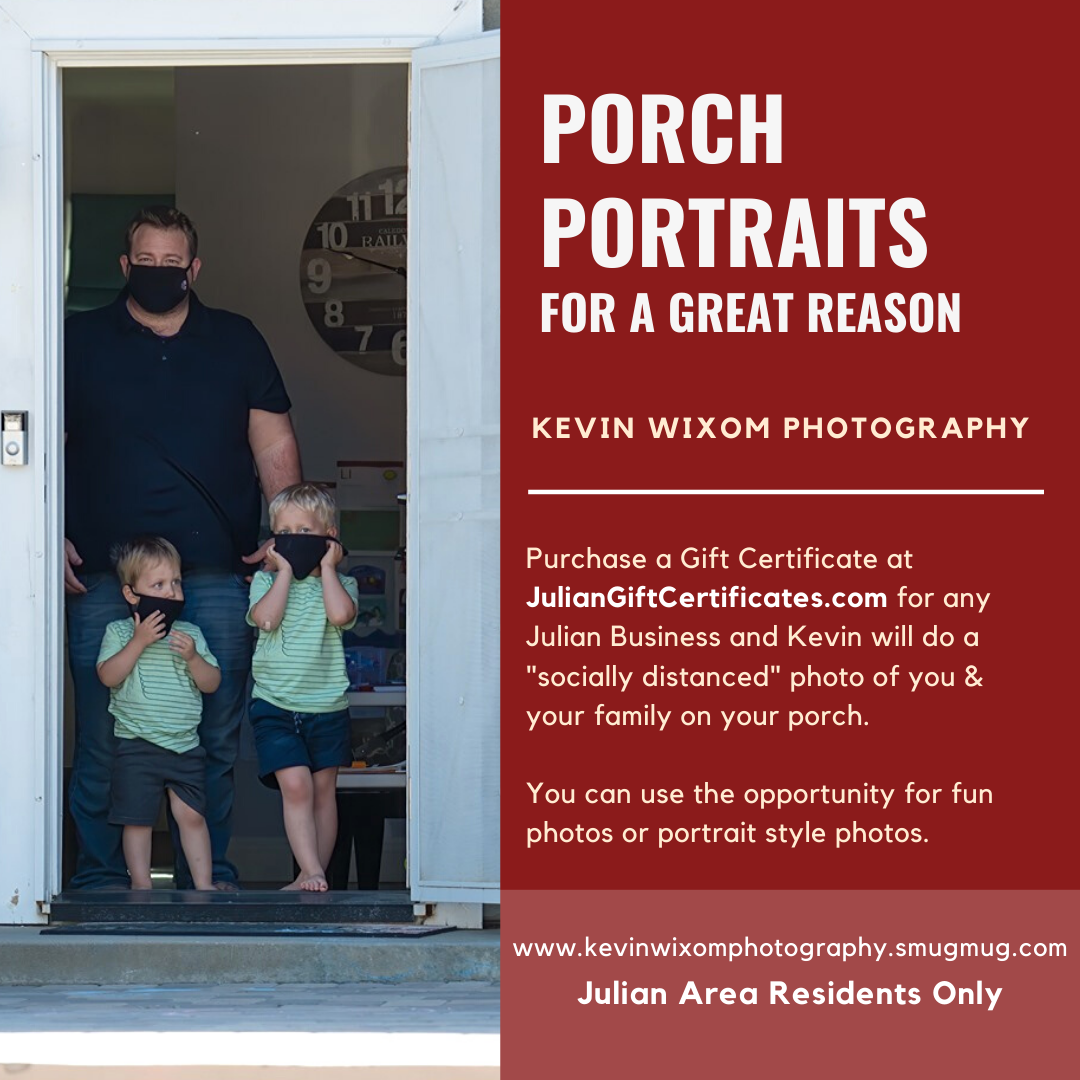 SUPPORT LOCAL BUSINESS & GET A FAMILY PORTRAIT FOR FREE!
Kevin Wixom, a local Julian photographer has graciously stepped up to help support the businesses of Julian disrupted during this time. Porch portraits have grown in popularity this last month or so and Kevin will take the portraits of Julian residents who purchase a gift certificate in support of local business.
How it works:

Purchase a gift certificate for the business of your choice ($15 min)

Email

marketing@julianca.com

if you purchase directly from business. Otherwise, we will be notified if you purchase through our site.

We will connect you with Kevin Wixom photography to schedule your "Porch Portraits."

Follow him on Facebook:


In an effort to

Support the Unique, Family Owned Businesses of Julian. We are offering to sell gift certificates to the business of your choice during this difficult time in our economy.
Your support will go a long way in ensuring that the businesses will remain here for you to visit once the restrictions have been lifted.

We thank you, SINCERELY for your support and for your appreciation for Julian.
How it Works
If there is not a direct link to purchase gift certs from your favorites in Julian. Simply choose a business in the box below and the Julian Chamber of Commerce will secure the certificate on your behalf and send it out to you ASAP.
Thanks for your support
Gift Certificates Available Directly From Merchants
Click on the Name to be Taken Directly There
California Wolf Center – click on tours and certificates near the bottom of page
Butterfield Bed & Breakfast – Please Call (800) 379-4262
Special Offers
The following businesses have these special offers:
Businesses That You Should Contact Directly for Gift Certificates:
Don't Forget to Support Your Favorites in Julian!  Please Put the name of the Store in the Business Selection Box and click on Buy Now.  We'll pass the purchase on to them and send your Gift Certificate ASAP!!