When I think of "comfort food" there are a lot of mouthwatering dishes that come to my mind, but none as much as my mom's chicken and dumplings. Yum! Growing up, this meal was somewhat of a staple in our household, and I would always get so excited when I saw my mom deboning a chicken because most likely she was about to make either her chicken enchiladas or chicken and dumplings, which were both more than satisfying to my young taste buds (and now my older ones!!!) One of my favorite memories is coming home after school, taking that first step through the front door only inhale all the delectable and inviting aromas wafting from my mom's kitchen. Now that I have two kids of my own, chicken and dumplings has also become a staple meal in my house – although my husband says to not make it more than once a week or your family will get burnt out…haha!). I sincerely hope my girls develop the same loving memories of me making it for my family as I have of my mom making it for hers.
Aside from this chicken and dumpling recipe being the most delicious "comfort food" ever, it couldn't be easier! It has very few ingredients, so it is perfect for all who lead busy lives (so that means everyone, right?!) By using one of those fabulous cooked chickens you can find in just about every grocery store (oh my, what would we do without those) and a couple of Campbell's soup cans for the broth base, you have just reduced both your prep and cooking time drastically!
Plus, this easy meal is excellent as leftovers! I grew up in the "backcountry" of San Diego county on Palomar Mountain living far from restaurants or grocery stores so it was imperative for my mom to have plenty on hand for extra meals. This has stuck with me and no matter where you live this is always helpful.
I hope you enjoy this delicious, easy to make meal with your family and friends!
– Danielle Druliner, Backcountry Local
Thanks to Red Hawk Realty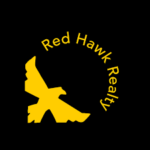 RED HAWK REALTY
Donn Bree, PHD Broker / Owner
Certified Eco Broker specializing in ranches, homes, land and loans. Providing experienced, professional service with land mitigation, trust deeds and consulting. In-house mortgage company and marketing team.
(800) 371-6669
21887 Washington Street
P.O. Box 188, Santa Ysabel, CA 92070
www.donn.com
INGREDIENTS:
Stew
– 1 Rotisserie Chicken
– ½ large Onion
– 3 Carrots
– 1/2 cup Frozen Peas
– 3 cloves Garlic
– 22 oz (2 ¾ cups)
Chicken Stock
– 1 can Cream of Chicken
– 1/4 tsp Paprika
– 3/4 tsp Garlic Salt
– 1/4 tsp Black Pepper
– 1 TBS Butter
Dumplings
– 1 ½ cups All-Purpose Flour
– 2 tsp Baking Powder
– 3/4 tsp Salt
– 3 tbsp Shortening
– 3/4 cup Milk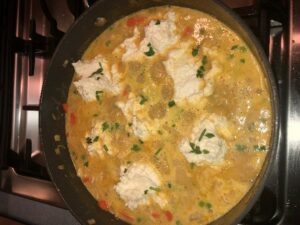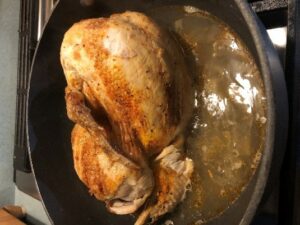 STEW:
It doesn't really matter in what order you do the prep work, just as long as the all the vegetables are peeled and chopped, and the chicken is deboned and cut into bit size pieces.
*TIP – If you buy a precooked rotisserie chicken from the grocery store deli department, simply put the chicken along with any drippings that are left in the container or bag in a pot with about a cup of water and simmer it for 20 minutes. You will not only find the chicken is considerably moister and easier to debone, but you will also get a more authentic and rich tasting chicken broth to add to the canned chicken broth.
Now the cooking begins! Add your butter to a large pot that has a tight-fitting lid. After the butter has melted, add the onions and sauté for a couple minutes before adding the rest of the vegetables.
*TIP – Here is where you can get creative and truly tailor this recipe to your liking. I have a three-year old who is normally extremely picky, but for some reason she will eat almost any vegetable I add (except mushrooms, I found out!). I decidedly use this to my advantage and experiment with adding vegetables. I have also tried adding celery, corn, jalapenos, poblanos and mushrooms on different occasions, and all were delectable.
After sautéing the vegetables for a few minutes, add the rotisserie chicken. I like to sprinkle the seasoning in at this point because I feel it lends a depth of flavor to the vegetables and chicken that they normally wouldn't have if the seasoning was added to just the broth. Add one can cream of chicken and three cups chicken broth (including the extra drippings from the chicken). If you like your stew thick or thin, you can add more or less chicken broth. Heat broth until boiling.
DUMPLINGS:
For the drop dumplings, first mix the flour, baking powder, salt and garlic together in a bowl. Then, cut in the shortening until the flour mixture resembles crumbs. Finally, pour milk slowly into the flour mixture and mix well, but it is important not to overmix or the dumplings will become too dense! Sometimes I like to add shredded cheese, chives, or parsley to my dumplings too!
Once the stew is boiling, drop large spoonful's of dough into the top of your stew in equal distances from each other. This recipe will make about six or seven dumplings. Cook uncovered for 10 minutes on medium low heat and then another 10 minutes covered.
Voila! Enjoy!!