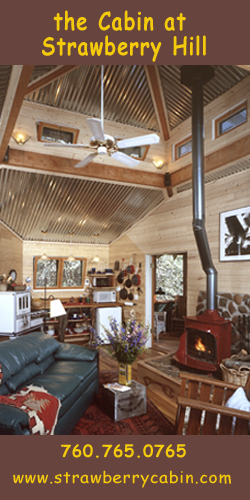 Confederated, veterans from Georgia headed West to seek their fortunes in a new, mostly unsettled land. Among these were cousins, Drue Bailey and Mike Julian, who found a lush meadow between the Volcan Mountains and the Cuyamacas to their liking.
The town was named Julian, in honor of Mike Julian, who later was elected San Diego County Assessor. The town was never big, at the most it boasted a population of about 600 — more than reside in the historic district today. Rumor has it that Julian almost became San Diego's county seat.
A cattleman, Fred Coleman, found the first fleck of gold in a creek in early 1870. It was San Diego's first and only gold rush. The gold rush was short lived, lasting from 1870 until around 1900, with some mining still later on. A local resident's Grandfather is listed as a hoist operator at the Golden Chariot mine on his WWI enlistment papers. But the pioneers stayed and began farming the rich land.
While many crops were planted and animals pastured, Julian proved to be a fine place to grow apples. Julian apples, "Twenty-one varieties of well grown and carefully selected apples", received the Bronze Wilder Medal, a top honor, from the American Pomological Society at the 1907 Tri-centennial Exposition held in Jamestown, Virginia. Apples continue to be produced in Julian. Their sweet, fresh flavor lures thousands to the mountains each fall, when visitors will find fruit stands overflowing with crisp fruit, homemade cider and other delicacies, and enjoy U-picking.
Many of the early pioneers are buried in the Julian Haven of Rest cemetery, located on the hill just North of town. The cemetery is open to the public.
ABOUT JULIAN
Julian is a historic gold mining town located approximately one hour east of San Diego. It is a quaint mountain retreat with four distinct seasons: Spring brings the blossoming of many flowers including daffodils and lilacs; Summer is perfect for hiking and star-gazing; Fall is famous for the apple harvest and fall colors; while Winter brings snowfall and bright, crisp days.
Although famous for its apples and superb apple pie, Julian has become the center for visitors who wish to stay in the mountains but take day trips to the nearby casinos, the Anza Borrego Desert State Park and the coast. It is known as the B&B capital of Southern California with its romantic atmosphere, and is also fast becoming a great destination for families, hikers, weddings and corporate retreats.
Specialty shops line the historic streets, and the attractions are unique, ranging from wineries to gold mines to a wolf preserve. With a year-round calendar of unique events, Julian offers plenty of old fashioned entertainment for couples, families and groups of all ages.
Self-Guided Historic Walking Tour
Julian Town Hall
F.A. DeLuca Store
A.P. Frary, Jr. Residence
Julian Jail
F. L. Blanc Warehouse
F. L. Blanc Rental
Dr. Hildreth Office/Residence
Hosking's Rental Residences
F.A. DeLuca Residence
Hotel Robinson
Wilcox Building
Wheelbarrow Odometer
Survey of 1894
Levi-Marks Store
Bailey-King House
Drue Bailey House
Pioneer Cemetery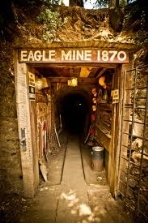 Eagle Mining Co., The
Tour Eagle and High Peak Mines, two of Julian's original gold mines. Guides lead you through the intricate path of tunnels in the hard rock mine and share tales of the life of early residents of Julian. Open: 10 am to 4 pm (Maybe later on weekends.)
(760) 765-0036
End of C Street, P.O. Box 624, Julian, CA 92036
www.theeaglemining.com
Pioneer Museum
Julian Pioneer Museum – The museum features, vintage clothing, photographs, household and mining equipment, and a renown lace collection. There are Victorian era pianos, an original Julian City buggy and sleigh, an extensive exhibit of Indian artifacts, and animal and bird mountings indigenous to the area. Built circa 1890 by Joseph Treshil as a blacksmith shop, it later served as a brewery for Peter Meyerhofer
(760) 765-0227
2811 Washington Street, P.O. Box 511, Julian, CA 92036
Email: info@julianpioneermuseum.org
www.julianpioneermuseum.org

Santa Ysabel School at Witch Creek
The Santa Ysabel School at Witch Creek was built in 1880, on land donated by the Sawday Family. Students in grades one through eight were taught by one teacher until 1952, this is when the seventh and eighth grade students were sent to Julian. For the next two years the first through sixth grade students were taught by the last teacher to teach at the Witch Creek School, Mrs. Rosemary Dewitt. In 1954 The school was closed and students living in the valley rode the bus to Julian.
The Lightner family bought the Witch Creek school property after it was closed and used it as a retreat for several years. They sold the property to the Starr family who planned on tearing the building down. The little building, in a state of severe disrepair was saved by the efforts of the Julian Historical Society. A dedicated group of volunteers' spear headed a campaign to secure the funds to move the building to Julian.
In 1970 the county of San Diego made a location ready in Pioneer Park in Julian, a mover provided the manpower and equipment, and the building was moved was placed on two truck and slowly made its way up the mountain. The building was restored and became Julian's second public library, opening in November 1971.
The Witch Creek school building ceased being a library in 2004, when a new, larger, and more up to date library was opened.
The charming school building is now the home of the Julian Historical Society. 2133 4th, Julian, CA 92036