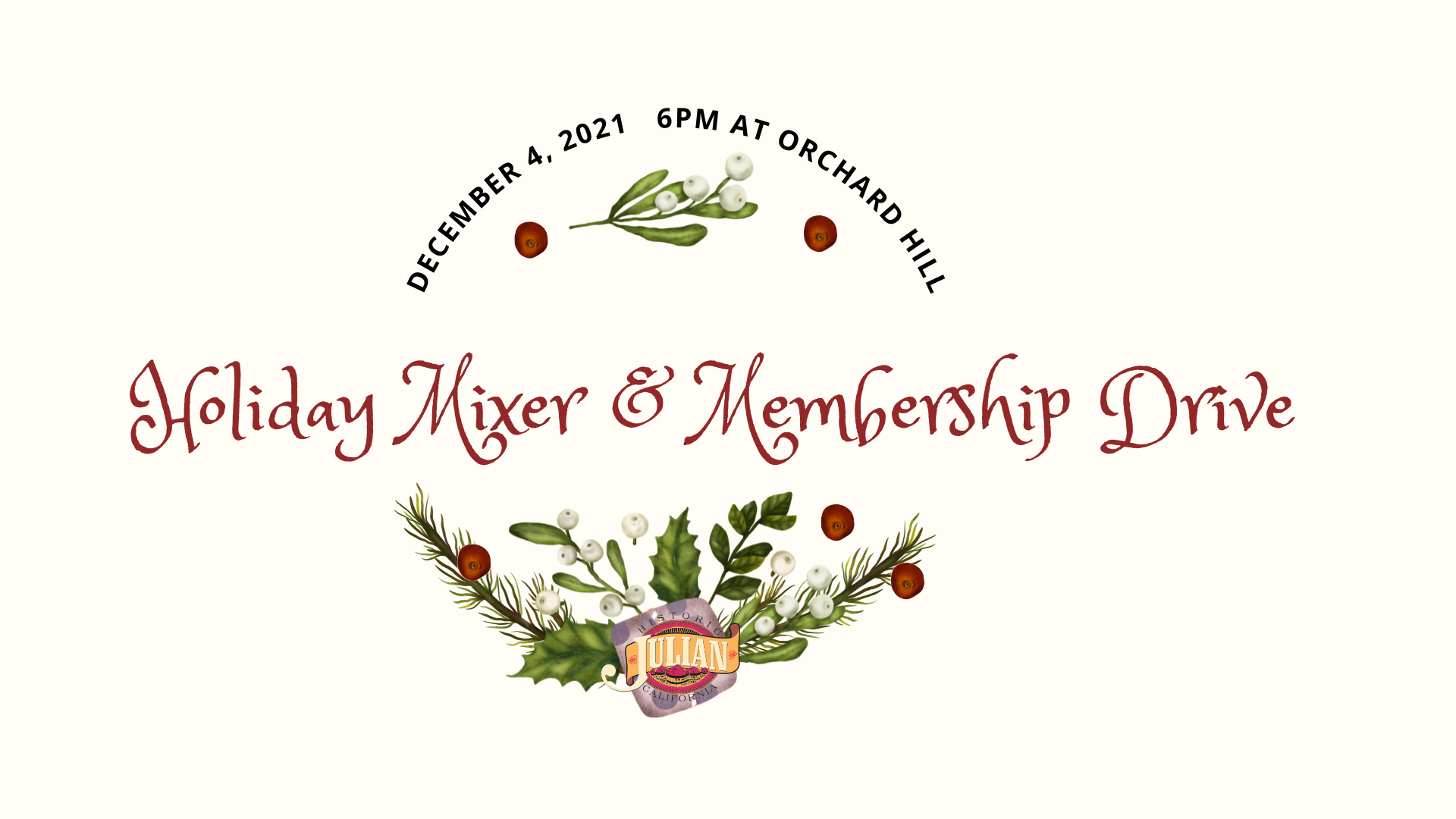 Business listings on the web site in all appropriate categories
One-time complete membership mailing labels upon request
Your business may be listed and described on visitor handouts
Use of brochure racks at the Town Hall
Referrals for your business
Periodic Member Information Newsletters
Monthly Chamber Mixer socials
Sharing of your information on social media (Facebook, Instagram, Twitter)
Opportunity to participate in handouts to potential visitors to Julian
Opportunity to post your events on the chamber event page on our website
Sharing of your Facebook Events on the Chamber FB page.
Use of Town Hall at a reduced, membership rate.
Space for your informative, celebrational or event banners on the porch of Town Hall (first come first serve, reservation form in office).
Display of special events
A plaque and brass engraving acknowledging your years of membership
Outreach: Representatives of the chamber attend tourism tradeshows to promote visitation to our area. During these tradeshows we also get the opportunity to meet with tour guides and many people in the hospitality industry and share with them information on our area.
Familiarization Tours (FAM Tours). Approximately 2 times per year we host hospitality professionals in Julian. We take them to the major attractions and we also let them spend free time on Main Street
Advertising:  Selectively the chamber advertises our area in print.  This includes the Julian and Ramona Guides, select hospitality magazines and occasionally in news.  The chamber also advertises its major events online with San Diego Tourism Authority and other well know online outlets.
Town Decorations:  Each year town is decorated for the Holidays enhancing the visitor experience when visiting. In addition, musicians are hired and Santa Clause is hired to be at town hall (porch) weekends in December.
Congratulations to us ALL!  The Shop Local Campaign in December was a Great Success.
We Received nearly $16,000 in receipts and gave away another $1000 to be spent in Julian by the Two Raffle Winners.
Mixers
Julian Chamber Mixers, held 5:30 to 7:30 pm, are now planned for the Second Thursday of the month.
Hors d'oeuvres to light meals are provided by the host and are complimentary.
The bar is normally provided by the Julian Chamber and is "No Host," which means there is a cost.  Mixed Drinks are $5.00, Call Drinks are $7.00, Beer & Wine are $4.00, and Non-Alcoholic is $1.00.  If the host has a liquor license they provide the beverages and their prices.
We are currently seeking businesses that are interested in hosting the Mixers. See the Calendar to the left for Mixer information.. If you are interested in Hosting a Mixer, please let the office know. 
The Merchant's Networking Breakfasts
We are changing up the schedule  –  dates and  location will be posted on the Julian Chamber Calendar and is usually provided by e-mail.
The cost is $10 for members and $12 for non-members and guests.
Everyone is Welcome! Bring a raffle prize to showcase your business.
The Breakfast is an excellent venue for introducing an upcoming event or special and for meeting fellow business members.
Articles and Resources for Our Members
The Julian Chamber of Commerce is Proud to Cooperate with the Following Organizations.