Lake Cuyamaca Recreation & Park District

Open 7 days a week from 6 am until sunset.
Fishing permits: $8 for adults, $4.00 for kids (8-15) You will need a CA State Fishing License if you are 16 years of age or older.
Motor boat rentals: $50 all day, $30 after 1pm, Rowboats- $20 all day – $17.50 after 1pm
(760) 765-0515 (877) 581-9904
15027 Highway 79, Julian, CA 92036
Email: butch@lakecuyamaca.org or contact@lakecuyamaca.org
www.lakecuyamaca.org
California Wolf Center
Programs include an educational presentation and guided observation of resident wolves. Tours run an hour and a half and are by appointment only.
Children under 18 must be accompanied by an adult.
(760) 765-0030
P.O. Box 1389, Julian, CA 92036
www.californiawolfcenter.org
Oasis Camel Dairy
VISIT: Tours, camel rides and events. Located between Ramona and Julian on Highway 78.
PRODUCTS: Hand-crafted camel milk soap, lotions and camel milk chocolate.
(760) 787-0983
26757 Old Julian Highway, Ramona, CA 92065
Email: contactus@cameldairy.com
www.cameldairy.com

Julian Station
We Feature a BACK PATIO and the Arcade, Pool Table, Air Hockey, Vintage Mechanical Kids Rides (Car, Dolphin, Harley, Zebra and Horse) and Young Kids Play Area.
The Station is open Friday through Sunday from 12-6 and Music at Julian Station takes place every Sunday from
1-4 pm.
4470 Julian Rd. (Hwy. 78)
in Julian, California in the pastoral Wynola Valley 3 miles West of Main Street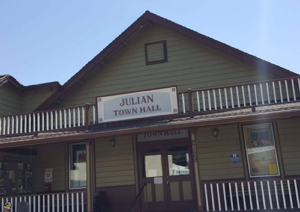 Julian History Hunt
Pick up a free map at Town Hall and follow the self-guided History Walk to explore the historic buildings and markers throughout town. Return the filled-out questionnaire for a Julian souvenir.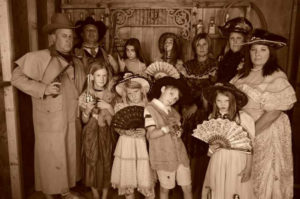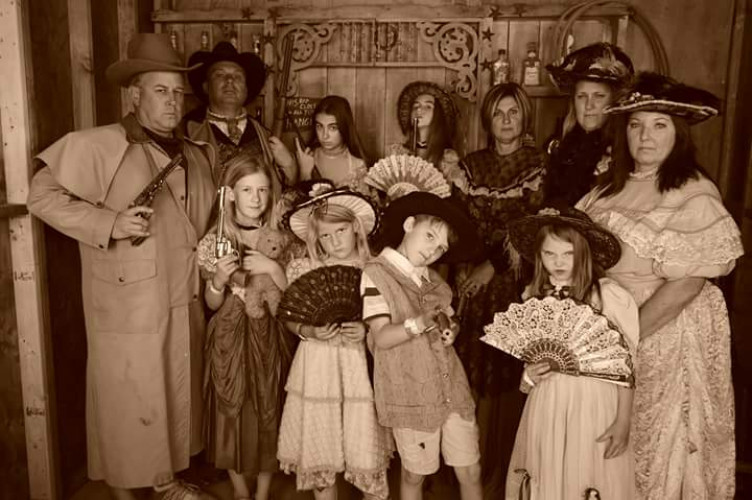 Julian Olde Time Photo
You could be a cowboy, outlaw or a bar wench. With our professional costumes and props, transport yourself and your group back to the Old West.
2116 Main Street – Upstairs
Call (760) 315-8491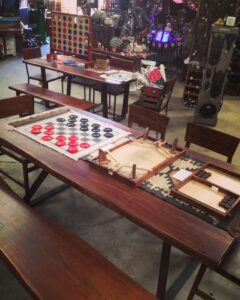 The Warm Hearth of Julian
Games set up to enjoy
2125 Main St.
Eagle Mining Co., The
Tour Eagle and High Peak Mines, two of Julian's original gold mines. Guides lead you through the intricate path of tunnels in the hard rock mine and share tales of the life of early residents of Julian. Open: 10 am to 4 pm
(Maybe later on weekends.)
(760) 765-0036
End of C Street
P.O. Box 624, Julian, CA 92036
www.theeaglemining.com
Julian Mining Company
Pan for real gold, sluice & screen gemstones and fossils, visit the farm animals, shop the company store, see antique mining equipment, bottle house and small railroad, throw tomahawks and more.
For hours please see Julian Mining Co.
(951) 313-0166
Email: julianminingco@aol.com
www.julianminingcompany.com
Fort Cross Old Timey Adventures
We are a family owned and operated hands-on activity based business that focuses on historical education, outdoor adventuring, agritourism, music, art, and FUN! Activity stations include Archery, Tomahawk Throwing, Slingshot Paintball Range, Petting Zoo, Candle Dipping, Gold Rush Station, Hayrides, Hoedowns, Guided Overnight Camping, and so much more! These activities are offered as part of a private group tour, as well as on an individual basis to the public. Field trips welcome!
4425 Hwy 78, Santa Ysabel, CA 92070
951-847-1904
www.fortcross.com/group-tours
www.fortcross.com
www.facebook.com/fortcrosscamping/
Instagram: @fortcrossadventures
Jess Martin County Park
2955 Highway 79, Julian, CA 92036
(858) 694-3030
Hours: Sunrise – sunset, daily
This 9-acre community park offers the families of Julian a number of recreational opportunities, from picnics to skateboarding. Come unwind, and carve out some boarding time at the skate park.
Whether you want to get your game on at the ball fields, bring the little ones for the playground, or get your heart rate up on the community exercise path—there's something for everyone at Jess Martin Park.
NOTE: Alcoholic drinks are not allowed in the skate park area.
Features:
Playground
Exercise path
Skate park
Picnic Tables
Ball fields
Restrooms

San Diego County Library in Julian
The Julian Branch Library features many events and activities for the entire family. Music on the Mountain, monthly. Check out the library calendar for all the details.
1850 Highway 78
Julian, CA 92036
(760) 765-0370
http://www.sdcl.org/locations_JL.html
(760) 765-0370
1850 Highway 78, Julian, CA 92036
Hours: Sunday – Closed,
Monday – Closed,
Tuesday – 9 am to 8 pm,
Wednesday -9 am. to 6 pm,
Thursday – 9 am. to 6 pm,
Friday – 9 am to 5 pm,
Saturday – 9 am to 5 pm
www.sdcl.org
Fun Shops Your Kids Will Love!