Town Hall needs repair.  This building is from 1914 and requires structural and safety upgrades.  We want to bring town hall back to glorious and continue to serve and grow in its service to the entire Julian community as well as our visitors.
The Julian Chamber of Commerce has begun a fundraising campaign for renovating the iconic Town Hall building. The chamber applied for a grant through the county and the award we may receive is currently unknown.  The funds are urgently needed to revive the building and address structural issues. The Chamber will hold a series of events and activities over the next several months that will help it reach this important financial goal.
Many Opportunities and Happenings to Support this Project. 
Join Us. . .
Enjoy great food, wine, music and conversation. Learn more about our plans for the Town Hall Renovation Project.
Your donation includes wine tasting from several local wineries, charcuterie, music and a chance to participate in an amazing silent auction.
December 18, 2021
6:30pm to 8:30pm
2129 Main St., Julian
$50.00 per person
Our Volunteers are hard at work collecting awesome items for our Silent Auction to be held at the Wine & Cheese Soiree.
Our list of items will continue to grow.
Photo by Cindy Hedgecock
Photo by Linda Todd-Limon
Photo by Barbara Nigro
Art class Ilan Lael Foundation
NES Biogenetic Scan from Julian Wellness Center
Private tour 6 people $250  from Wolf Center (up to 6)
Deluxe stay/dinner at the lovely Orchard Hill (2nights)
Several overnight accommodations & Motor Boar Rentals from Lake Cuyamaca
Two Free Tickets to Taste of Julian 2022
Two Free Tickets to SIP of Julian 2022
Vote For the Town Hall Color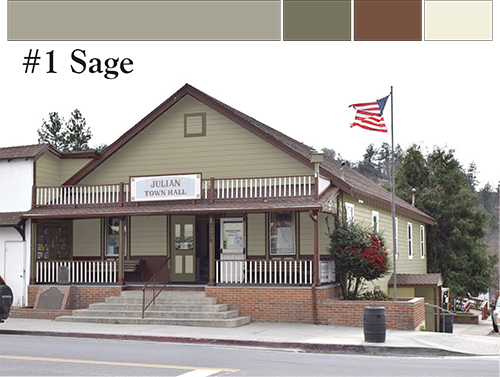 ---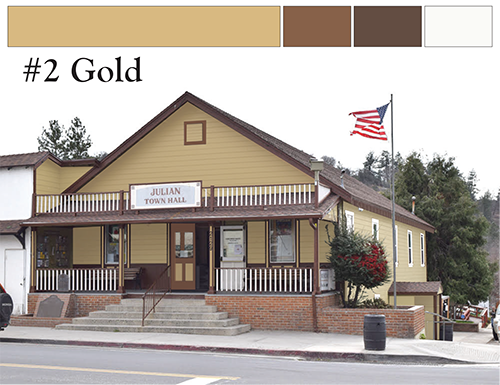 ---
Color Contest to determine the paint scheme for the exterior of the building. In keeping with the Architectural Review Board guidelines, the community can vote on one of three colors schemes during the period of November 15, 2021 to December 15, 2021 by putting money in containers located in the Town Hall. At the end voting, the container with the most money will determine the color of the building.
The color selections will be published in the Julian Journal and posted around town.
Become a Recognized Donor
Be a part of the post renovation Donor Wall.
The Major Donor Wall recognition starts at $500
---
Get yourself a name plaque on the trim around the town hall upstairs with a donation of $100 or $250
Town Serves Our Community Throughout the Year.