More Things to Do in Julian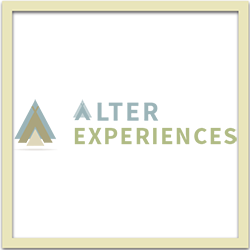 Alter Experiences
Alter Experiences is San Diego's First Glamping and Experiential Retreat
Shantel Seoane
760-527-3236
info@alterexperiences.com
www.alterexperiences.com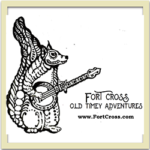 Fort Cross Old Timey Adventures
Family Owned and operated living history company specializing in hands-on activities, with an emphasis on music, art, and education. Also, birthday parties and private events!
Jesse and Doreen Cross
(951) 847-1904
4425 Hwy 78
Santa Ysabel, CA 92070
fortcrossfun@gmail.com
www.fortcross.com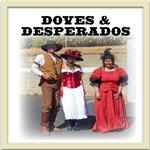 Julian Doves & Desperados
In town every Sunday the famed Julian Doves & Desperados, weather permitting, will perform a skit at 2pm in front of the Historic Julian Jail.   Fun for all ages. Meet the characters, Captain Cooper, Sadie Cashman, Doc Hopkins, Snake and Gypsy Davenporte. Sponsored by the Julian Chamber of Commerce. For Information: (760) 765-1857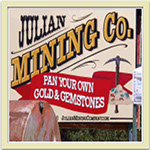 Julian Mining Company
Pan for real gold, sluice & screen gemstones and fossils, visit the farm animals, shop the company store, see antique mining equipment, bottle house and small railroad, throw tomahawks and more.  For hours please see Julian Mining Co.
(951) 313-0166
Email: julianminingco@aol.com
www.julianminingcompany.com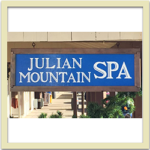 Julian Mountain Spa
A Boutique day spa with cozy cabin atmosphere. Offering variety massage and bodywork modalities, holistic facials and skin care, acupuncture and herbal consultations. Discounts for group events and spa day packages. Please visit our website for a complete list of services. We look forward to seeing you!
(760) 896-4049
2122 Main Street, Ste. C, Julian
Email: info@julianmountainspa.com
www.julianmountainspa.com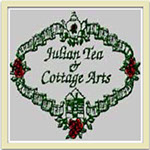 Julian Tea & Cottage Arts
Tea is served daily in a charming turn-of-the-century home. Afternoon Tea consists of finger sandwiches, scone with whipped cream, homemade jam and dessert.
(760) 765-0832
2124 Third Street
www.juliantea.com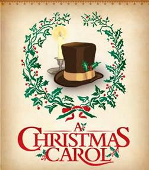 Julian Theater Company
Company Theater – Live Productions
Scott and Deborah Kinney
(760) 803-0290
PO Box 41
Julian, CA 92036
www.juliantheatercompany.com 
kinpro52@msn.com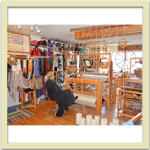 Julian Weaving Works / Academy of Hand Weaving

The Studio Gallery Open from 10 to 4 Thu-Sun, but if we happen to be working weaving custom saddle blankets you are welcome to come in and see.  Handwoven Wearable Art including shawls, scarves, hats, skirts, dresses. Jackets.  Many household items rugs, runners, lap throws, throw pillows etc.
Most items are woven on site so it is a great place to experience this ancient art form in process.Some yarns are available for sale.
30352 Highway 78
Santa Ysabel, CA 92070
760-765-1986
http://weaverslink.com/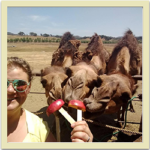 Oasis Camel Dairy
PRODUCTS: Hand-crafted camel milk soap, lotions and camel milk chocolate. VISIT: Tours, camel rides and events. Located between Ramona and Julian on Highway 78.
(760) 787-0983
26757 Old Julian Highway, Ramona, CA 92065
Email: contactus@cameldairy.com
www.cameldairy.com

Old Time Melodrama
Join us in celebrating Julian Apple Days with the Old Time Melodrama. Performances are on the weekends in the month of October in the Julian Town Hall, come cheer the hero and boo the villain. All proceeds benefit our community scholarships.
See you there.
(760) 765-1598
www.julianmelodrama.com

Sky Sailing At Warner Springs
As Southern California's Premier Sailplane destination, Sky Sailing offers rides of one or two passengers, instruction in the art of Soaring, and a place for the Glider community to meet and practice their sport. Soaring is the flight of a sailplane or glider, by using the energy produced by gliding along on the air-currents, much like a powered airplane. Learning to soar in a sailplane is the best way to begin to learn to fly.
(760) 782-0404
31930 Highway 79, Warner Springs, CA 92086
Email: soar@skysailing.com
www.skysailing.com
THINGS TO DO
Whether you've booked a room at a cozy bed and breakfast or are just coming up for the day, there's a variety of activities waiting for you in Julian (and some of them are FREE.):
Pick up a free map at Town Hall and follow the self-guided History Walk to explore the historic buildings and markers throughout town. Return the filled-out questionnaire for a chance to win.
Drive up C Street for a guided tour that takes you deep inside a real gold mine.
Visit Main Street and sit at an authentic 1939 soda fountain for tasty ice cream treats.
Drive down Highway 79 to Lake Cuyamaca for fishing, boating and hiking. Be sure to visit the remains of Stonewall Mine, Julian's largest past gold producer.
Have a slice of apple pie and try one or more of the many other varieties of pies.
Visit Julian's Pioneer Museum to learn more about Julian's past and see the Grosskopf House, a model of pioneer living.
Browse through our one-of-a-kind boutiques, art galleries and antique shops in Julian and nearby Wynola.
Taste a variety of local wines, beer and hard cider.
Take an old-fashioned carriage ride down Main Street.
Enjoy a historic comedy skit from the Julian Doves & Desperadoes on Sundays.
Learn how to pan for gold in Wynola.
Pick up a hiking trail map at Town Hall for some scenic hikes at all skill levels.
Take a guided trail ride and experience Julian on horseback.
Make a reservation to visit the California Wolf Center to learn more about this endangered species.
Take a drive down to the desert through Banner and explore Borrego Springs.
Dress up in old-fashioned Western clothing and have your picture taken at Julian Olde Time Photo.
Pack a picnic lunch and visit one of our scenic parks including William Heise Park, Jess Martin Park and Cuyamaca Rancho State Park.
Experience high tea.
Visit our events page for a list of annual events, festivals, exhibitions, and much more.
Make a future reservation at a quaint hotel or cozy B&B and return for a whole weekend!
View the Julian sky through research telescopes at Observers Inn.