Saturday, November 4, 2023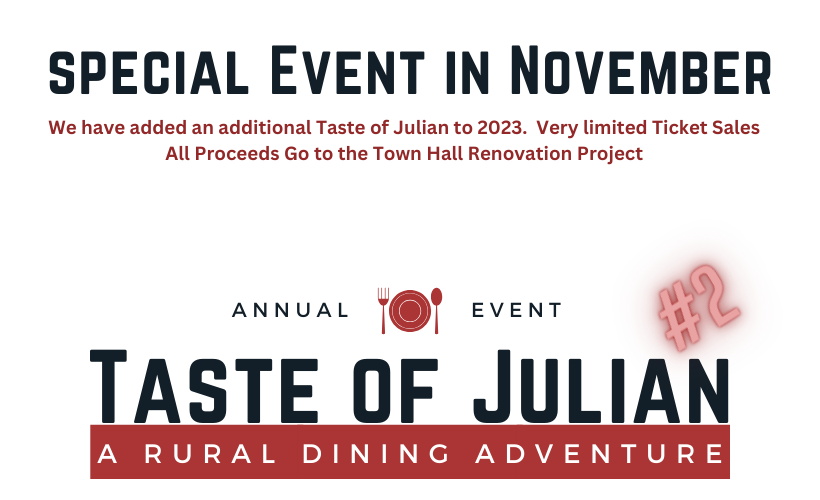 Saturday, November 4, 2023
Early Bird Tickets are $20.  Price to increase to $25
November 2023 Participants
(Check back for updates)
Apple Alley Bakery
Julian Candy Basket
Blue Door Winery
Julian Tea and Cottage Arts
Nickel Beer
The Pub at Lake Cuyamaca
Julian Wine and Chocolate
Heroes Wood Fired Pizza
Wynola Flats
The Julian Grille
 Jeremy's on the Hill
The Cooler
This Special Event is a Fundraising event for the Renovation of Julian's Town Hall
Taste of Julian: This Celebration of Julian Faire Shows there is more to Julian than Apples. While apples will always be revered by the hamlet of Julian, we have more than apples to celebrate and Taste of Julian is designed to do just that…celebrate the deliciously diverse culinary delights Julian has to offer. The event is a self guided tour of the participating restaurants and tasting rooms in the Julian area.
We Expect This event to SELL OUT! Only 100 Tickets Will be Sold
Purchasing your tickets in advance in highly recommended.
As the list of participating venues grows, the price for this event will increase to $25.00. Securing Your Tickets Early Guarantees you the best price for the afternoon of Tasting in Julian.
More Details:
Check in at Town Hall – 2129 Main Street, Julian (Corner of Main & Washington) on the porch beginning at 11:30am.
This is a self-guided Tour of the Participating Establishments in Julian. You will receive a wristband and a Map of participating establishments for your self guided culinary tour.  
Each establishment will have a clearly identified area where they are serving the "taste" to those who have purchased tickets to the event.  
We do get the question: "is this a dog friendly event." Our answer is that the event is only as dog friendly as each establishment you visit. Some will be serving outdoors and therefore may be dog friendly. Whereas others are indoors and are not.  You could trade off with members of your group to watch the dog.