Giving the perfect gift can be challenging! This especially true when giving to clients, vendors, potential customers and employees. Let us help you make this years gift memorable for your employees and a way to stand out for your company! The first step is to decide whom you will be giving a gift to and how many gifts you will need. This article is gearded to employee giving but don't forget your best loyal customers and preferred vendors that really go the extra mile for your business, and prospective clients. . The most common time for companies to give gifts to their employee is near Christmas.
Here are a few reasons for giving to consider:
Showing gratitude – an important thing to focus on! Show gratitude for the little things and one way of expressing graitidue is through a gift.

To increase personal connection and community. Consider adding a family Christmas card or hand written note to the gift to make it more personal.

Sometimes its nice to reach out and connect with people without actually having a motive. You get to connect with people without needing something in return.

Rekindle old relationships, or keep in touch with people whom you may not get to see in person regularly.

Show that you care and appreciate a relationship.
Now we move onto choosing the gift. Here are a few things to think about
Cost – decide how many gifts you will need and what your budget is.

Personalization – think about the person you are giving too.

Originality – think outside the box. For instance giving beef or pork is different from you average gift. Also a different and creative gift shows you spent time choosing it!

Utility – in todays world everything costs a lot and we all have way to much stuff. Try to think of a way to use your money wisely. What will people actually utilize. Food is always a great choice for corporate gifts as they can be enjoyed at home!

Timeline – plan ahead so that gifts have time to be shipped or you have time to deliver and/or distribute.

Shop Local – this can streamline your process.
Carrisito Ranch can help you simplify Christmas Giving this year (or all year round)!
Here are some options:
12 pack of beef sticks (don't need to be frozen) $24.00

Summer Sausage (don't need to be frozen) $14.99 per pound

Beef Butcher Box (10-12+ pounds) $129.00 Each

Pork Butcher Box (10-12+ pounds) $85.00 Each

40 Pound Packs of Ground Beef (other quantities available) $6.99 Per Pound

Whole Or Half BEEF "On The Hoof"

Whole or Half PORK "On The Hoof"
12 packs of beef sticks are a great option for large quantities of people. Summer Sausage is a great addition to ground beef or a great thing to go with a gift card! A beef butcher box is a great gift for the $100-$200 budget. A Whole of Half beef or pork is a generous and extremely ORIGINAL gift that will literally provide the person and their family with a good all natural source of protein for months.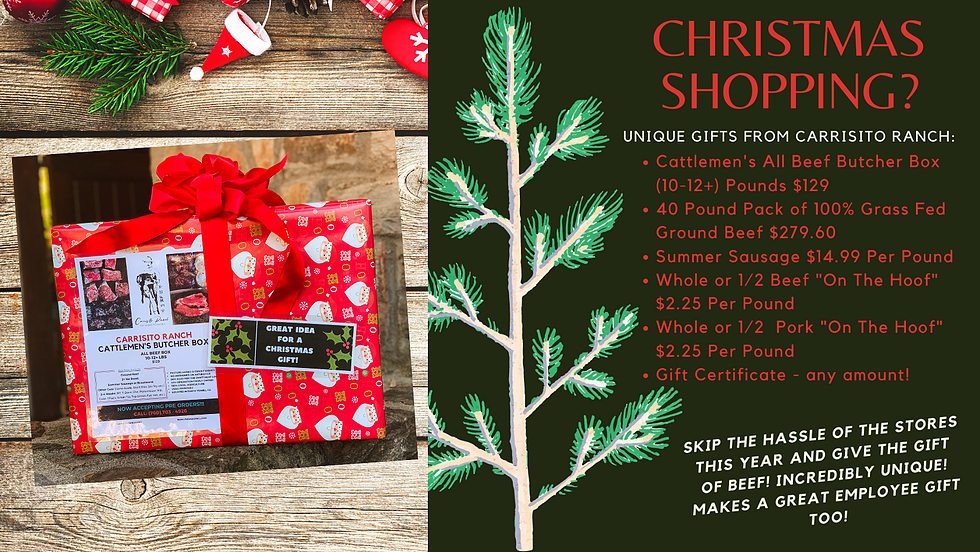 Carrisito Ranch will make this Christmas season gifting easy! Contact us to customize your order or for ideas. We are happy to work with a range of budgets and number of gifts needed! Call / Text (760) 703 – 4926 or email us at rowlynda@gmail.com for personalized assistance!
Carrisito Ranch is a 4th Generation Family Owned & Operated Cattle Ranch in the Santa Ysabel Valley. ​
Offering
USDA Approved BEEF & PORK
Beef & Pork Butcher Boxes
Pet Food: Dog Food & Dog Bones
100% Grass Fed Hamburger
1/2 Or Whole BEEF "On The Hoof"
1/2 Or Whole PORK "On The Hoof"
Grass Fed Beef "On The Hoof"
Thanksgiving Turkeys
Weaner Pigs
Firewood
Daffodils & Lilacs
Visit Their Website: https://www.carrisitoranch.org/