https://www.sfchronicle.com/travel/article/8-small-towns-to-visit-this-summer-in-California-16286010.php
Julian (population: 1,019)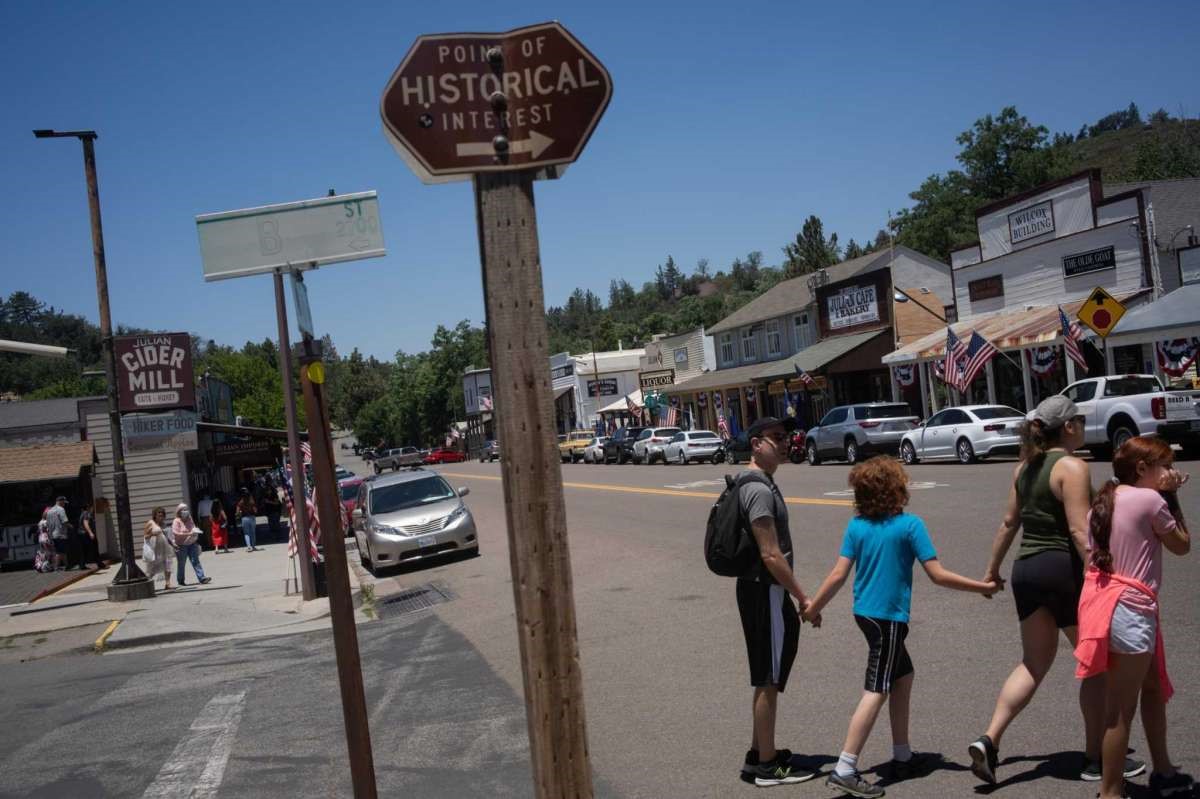 Main Street in downtown Julian.
Bing Guan/Special to The Chronicle
High in San Diego County's Cuyamaca Mountains is the former mining town of Julian. It lies an hour east of the clubs and all-night bonfires on San Diego's Pacific Beach, but feels a world apart. With just 1,000 permanent residents and a tiny downtown peppered with historic buildings that preserve Julian's Old West feel, life here is slow, artsy without being too crunchy, outdoorsy without being hardcore.
Julian embraces its sleepy village feel. It's close-knit, but locals can be counted on to pick up hitchhikers coming into town from the nearby Pacific Crest Trail and welcome the waves of fall visitors who descend to pick apples in heirloom orchards. More recently, the town has earned the official designation of International Dark Sky Community and cemented itself as an attraction for star-gazers eager to scope the solar system.
For both residents and visitors alike, most days end the same way: outdoors, in the still of the mountains, perhaps gazing up at the bright belt of the Milky Way.
MINING HISTORY
In the winter of 1869, former slave A.E. "Fred" Coleman, a cattle rancher who lived near present-day Julian, found gold in a mountain stream. His discovery kicked off San Diego County's only gold rush, which in turn transformed Julian into a proper town.
Today, visitors can get a taste for gold rush-era Julian by panning for gold at the Julian Mining Co. or taking an hourlong tour into old mineshafts at the Eagle Mining Co. History buffs who aren't a fan of underground tunnels can instead embark on an self-guided walking tour of the old town, a state historical landmark.
Julian Mining Co., 4444 Highway 78, Julian, 951-313-0166, www.julianminingcompany.com . Eagle Mining Co., 2320 C St., Julian, 760-765-0036, www.theeaglemining.com .
HIT THE TRAILS
Julian is surrounded by stunning hikes. To the south, the cool shores of Lake Cuyamaca and shady trails of Cuyamaca Rancho State Park beckon. To the east lies the breathtakingly rugged Anza-Borrego Desert State Park.
Right on Julian's doorstep is the Volcan Mountain Wilderness Preserve. The roughly 5-mile hike to the summit is considered moderately strenuous due to the elevation at the peak (5,353 feet), but the desert-to-coast views are well worth it. Check out the trailhead's gates designed by internationally renowned local artist James Hubbell, and after you make it back to your car, reward yourself with a glass of wine at nearby Volcan Mountain Winery or Menghini Winery.
Volcan Mountain Wilderness Preserve, 1209 Farmer Road at Wynola Road, www.sdparks.org/content/sdparks/en/park-pages/VolcanMountain.html .
APPLE FEVER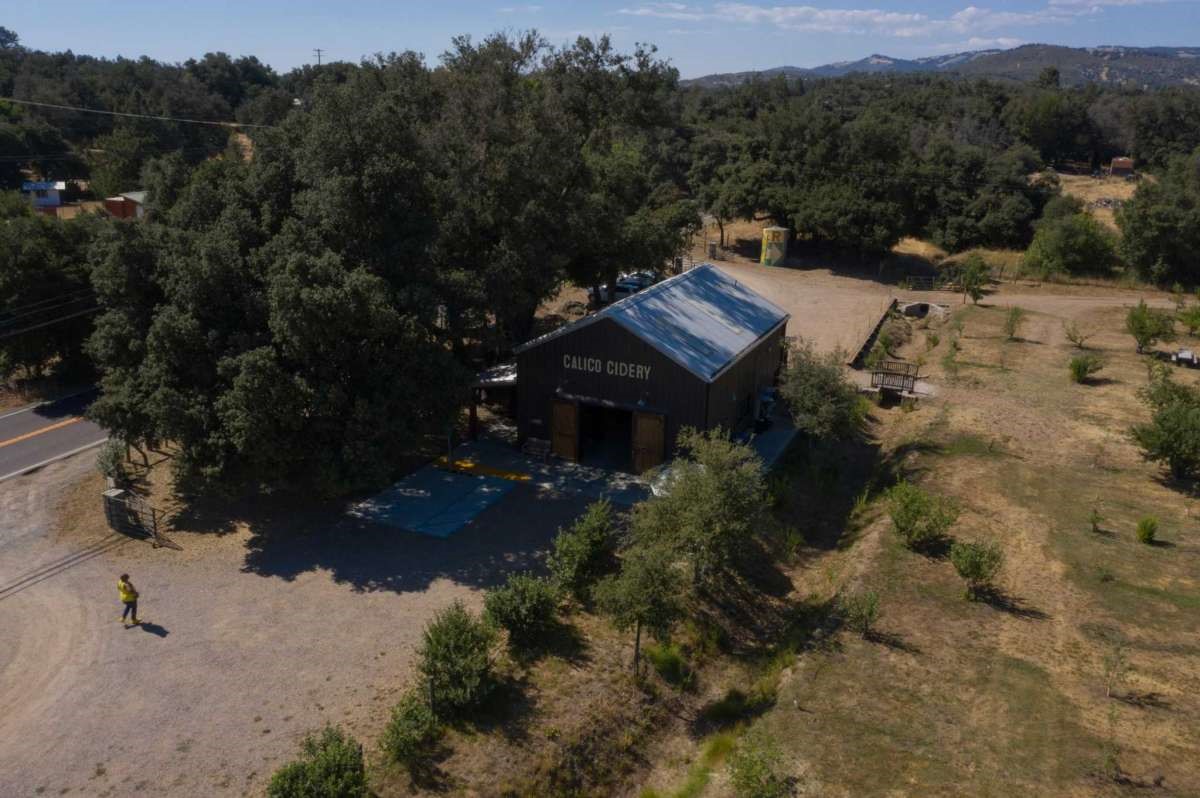 Billy Pittman walks through a parking lot towards the Calico Cidery.
Bing Guan/Special to The Chronicle
Gold made Julian, but apples made Julian famous. Its legendary crop won first prize at two World's Fairs and is still the reason many visitors flock to this mountain town. Starting around September, you can buy just-picked apples and fresh pressed cider without leaving Main Street at the Julian Cider Mill or head to any number of U-Pick locations outside town, like Calico Ranch or Apple and Art Orchards.
Some orchards allow you to bring a picnic, so pick up a sandwich from Jack's Grocery and Deli and a slice of pie from Apple Alley Bakery before you leave town. After a day in the orchards, unwind at Nickel Beer Co. If you haven't gotten your fill of all things apple, sip the Apple Pie Ale, a beer-cider blend flavored with pie spices, or try the Warrior Contribution golden ale, which supports the Inner North Star PTSD Retreat Center for veterans and first responders located in Julian.
Reservations may be required and many orchards are cash only.
EXPLORE THE NIGHT LIFE
While you won't find any clubs in Julian, there is an after-dark scene. Earlier this year, Julian became California's second International Dark Sky Community, a designation that recognizes places that make an effort to reduce light pollution so as to preserve views of the night sky. So when in Julian, make sure you turn the lights out and step outside for a glimpse of the Milky Way. Although the pandemic put a pause on events, the Julian Dark Sky Network and the homegrown Curiosity Peak Observatory have previously hosted "star parties" — nights when amateur astronomers and the public gather to gaze through telescopes. Dark sky enthusiasts can even stay at the Observer's Inn, a bed-and-breakfast that allows guests to bring their own telescopes or use the Inn's research-grade ones for a fee.
Call Curiosity Peak for the latest info and events: (619) 354-9258.
DETOUR: ILAN-LAEL CENTER
About 15 minutes outside Julian, near the little town of Wynola, is the Ilan-Lael Center, the home and life's work of artist and architectural designer James Hubbell, who created the Sea Ranch Chapel. Starting in 1958, Hubbell and his wife Anne built and sculpted 11 organically shaped buildings that appear to curve, spiral and flow out of the land — like Hobbit homes with a Southwestern flavor. Decorated with mosaics, stained glass, seashells and gemstones, they're true works of art. In the spring and fall, Hubbell opens the grounds for public tours, so go lose yourself in this artistic wonderland meant to inspire harmony between people and nature.
Ilan-Lael Center, 930 Orchard Lane, Santa Ysabel, 760-765-3427, www.ilanlaelfoundation.org .
—Lindsey J. Smith