August 2018 Articles
Article 1: As summer business picks up, step up your efforts to save energy
Now that summer is here, it's a great time to make sure your building's energy performance is in top shape. These measures have the potential to save significant amounts of energy, leaving you with more money for your business while maintaining or improving occupant comfort.
Many small-business owners who cater to families see their traffic pick up in the summer months when school is out; others benefit from summer tourism; and some are inherently seasonal. Whatever the reason, increased summer business can also mean higher energy bills and more waste. Consider these tips to help offset that impact:
Take advantage of the longer hours of sunlight. Your customers are likely to appreciate the beautiful summer days as much as you do; they can enjoy them by keeping the use of indoor lights to a minimum. It can also help keep your space cooler.
Adjust your summer schedule. If your business is able to easily change hours, consider doing so to avoid peak energy demand times (4pm – 9pm Monday through Sunday).
Use energy-efficient landscaping. Many owners like to use the summer months to tidy up their grounds with professional landscaping; and it can also be an opportunity to save energy. For example, planting trees strategically to provide shade can save a business thousands of dollars per year.
Article from Energy Upgrade California (they let us use their content and photos)
Article 2: Disasters don't plan ahead. You can.
An estimated 25 percent of businesses don't open again after a major disaster, according to the Institute for Business and Home Safety. Protect your small business by identifying the risks relevant to your location, both natural and man-made. Then, keep your plan of action updated.
Preserve your equipment and business records by referencing this IRS guide on protecting your information before an emergency strikes. The Federal Emergency Management Agency (FEMA) also offers an emergency preparedness checklist and toolkit.
Here are helpful preparedness tips to learn before an emergency strikes, not during.
Train your employees in general fire safety, especially for tasks with a high-fire risk, such as welding and cutting, fueling vehicles, working with flammable liquids, etc.
If your office roof is accessible by ladder, prop it against the building so you and firefighters have access to the roof.
Establish an evacuation plan and keep it up-to-date. Plan primary and secondary exits from your buildings. Consider how employees will escape if doors or windows are blocked by an exterior fire.
Build a personal "go bag" for your cubicle or office (containing basic necessities) that's easily accessible if, and when, you need to evacuate your work location.
Keep appropriate emergency supplies on hand, including flashlights, battery-powered portable radio, extra batteries, first-aid kit, manual can opener, non-perishable foods and bottled water.
For more information and tips on how to be prepared for an emergency, visit the FEMA website at www.fema.gov.
Article 3: For outage info – tap app, map or Twitter
Save yourself a phone call and use online options for information on planned and unplanned power outages at sdge.com/outage.
Article 4: Test state-of-the-art equipment at SDG&E's demonstration kitchen for free
SDG&E's Commercial Demonstration Kitchen at our Energy Innovation Center houses the latest in energy-efficient and vent-less cooking equipment. It's a great hands-on resource for the commercial foodservice industry. And right now, we have increased rebates on select foodservice equipment! Get rebate details at sdge.com/NLrebates.
You can try it before you buy it. Take "test-drives" of over 40 pieces of the latest energy-efficient natural gas and electric equipment from a variety of manufacturers. This service is at no-cost and no obligation.
You can compare quality, production, overall performance and ease of maintenance to help decide which appliances to purchase. Try new recipes! If you'd like to learn more, visit sdge.com/EIC, call 800.613.8970 or email FoodService@semprautilities.com. The Energy Innovation Center is located at 4760 Clairemont Mesa Blvd., San Diego, CA  92117.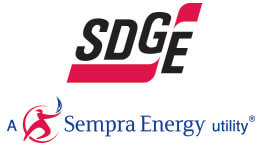 Message Archive with images
October 2016 Message from SDG&E®
These messages are presented on behalf of SDG&E and do not necessarily express the views of the Julian Chamber of Commerce
San Diego Gas & Electric Messages
With a focus on business
April 2017 Business Messaging from SDG&E®
Article 1: EcoChoice℠ is a productive choice for businesses
SDG&E's EcoChoice program gives customers the option to purchase up to 100% clean, renewable energy. The program may be a good option for those who lease or don't have the ability to adopt solar due to costs or the inability to put panels on their rooftop. With Ecochoice, there's no upfront installation cost and you're supporting clean, renewable energy in our community. Those who enroll will pay a small premium every month depending on their subscription level. Customers can visit our online calculator to estimate how much it will cost each month to purchase renewable energy through the program. Customers can also enroll online. For more information, visit sdge.com/ecochoice.
Article 2: 2017 Energy Showcase Expo coming soon
Join us at the annual Energy Showcase Expo on May 17, 2017. The event will be held at the San Diego Convention Center from 11 a.m. to 2 p.m. Don't miss out on this exciting opportunity to experience first-hand:
• State-of-the-art energy solutions – browse new and exciting products, services and tools to help you manage energy use
• An alternative fuel vehicle show – view a variety of different models and find the car that's right for you
• This year's Energy Champions – learn what local businesses have done to make them leaders in energy savings and find out how you can be a future champion
For more information, visit sdge.com/ES2017
Article 3: Is your facility prepared for an influx of electric vehicles?
The San Diego region is about 10 percent of the state. If Governor Brown's goal of 1.5 million zero-emission vehicles on California roads by 2025 is reached, our region could see 150,000 electric vehicles on our streets. We already have over 23,000 EVs in San Diego. It's not a question of "if" you will be asked to install charging, it's a question of "when"?
SDG&E's Power Your Drive program is installing 3,500 electric vehicle charging stations at apartments, condos and businesses across our service area. Interest in the program has been strong with over 400 properties on the interest list and only 350 sites available as of now. Sign up on our interest list or learn more on sdge.com/PowerYourDrive.
Already have an EV? Sign up for the Electric Vehicle Climate Credit
If you drive an all-electric or plug-in hybrid vehicle, you may be eligible to receive an annual credit of at least $50 on your SDG&E bill. Applications, found online at sdge.com/evcc, are being accepted now through May 2017.
Article 5: Attend Our Free Technology Incentives seminar
SDG&E's Technology Incentives (TI) Program provides incentives to businesses that purchase and install a qualifying Energy Management system (EMS). These systems help businesses control their energy use by implementing a customized load curtailment plan that optimizes system performance and monitors energy costs year round. By attending SDG&E's free Technology Incentives class, you'll learn the basic concepts and associated benefits of Energy Management Systems, Automated Demand Response and the Technology Incentives Program.
Visit seminars.sdge.com to register for this free, introductory level seminar. For more information:
 Visit the Technology Incentives website at sdge.com/TI
 Email drp@semprautilities.com
 Contact your SDG&E Account Executive
 Call the Business Contact Center at 1-866-377-4735
Article 6: SDG&E Spurs Energy Storage Innovation with Flow Battery Technology
SDG&E recently unveiled a new vanadium redox flow (VRF) battery storage pilot project in coordination with Sumitomo Electric (SEI), which stemmed from a partnership between Japan's New Energy and Industrial Development Organization (NEDO) and the California Governor's Office of Business and Economic Development (GO-Biz). During the four-year demonstration project, SDG&E will be researching if flow battery technology can economically enhance the delivery of reliable energy to customers, integrate growing amounts of renewable energy and increase the flexibility in the way the company manages the power grid. To read more of this story, visit sdgenews.com.
Social Media Samples
Tweets
 You're invited to SDG&E's Annual Energy Showcase Expo on May 17! Register at bit.ly/2nhS3sX #espsdge
 SDG&E's Power Your Drive program is installing 3,500 electric vehicle charging stations bit.ly/2nIi8SS #espsdge
 Zero-percent interest loans for qualifying businesses. Learn more at bit.ly/2nhwqJa #espsdge
 Find qualified trade professionals to help identify & implement energy & money saving solutions at your business bit.ly/2nHWBtz #espsdge
 Enroll in free classes at SDG&E's Energy Innovation Center. Learn how to make your business more energy-efficient. bit.ly/2nW7uW3 #espsdge
 Keep track of your business's energy use and costs with email or text alerts. Subscribe at bit.ly/2nbZU9K #espsdge
 SDG&E's EcoChoice Program is certified 100% renewable energy by Green-e. Learn how your business can go green. bit.ly/2mwTiWB #espsdge
 Is your business looking to go green? SDG&E's EcoChoice Program can help. bit.ly/2mwTiWB #espsdge
 Learn how you can purchase up to 100% renewable energy with SDG&E's EcoChoice Program bit.ly/2mwTiWB #espsdge
Facebook posts
 Is your business looking to "go green"? SDG&E's EcoChoice Program can help. Purchase up to 100% clean, renewable energy. sdge.com/ecochoice
 A smart approach to energy management begins with a comprehensive energy analysis. SDG&E's Comprehensive Audit Program is a great place to start. Learn more: sdge.com/business/comprehensive-audit-program
 Implementing Energy Efficiency Projects in 2017? Sign up for one of @SDGE's Energy Innovation Center seminars: sdge.com/training
Instagram Post
Purchase up to 100% renewable energy with SDG&E's EcoChoice Program #espsdge #ecochoice